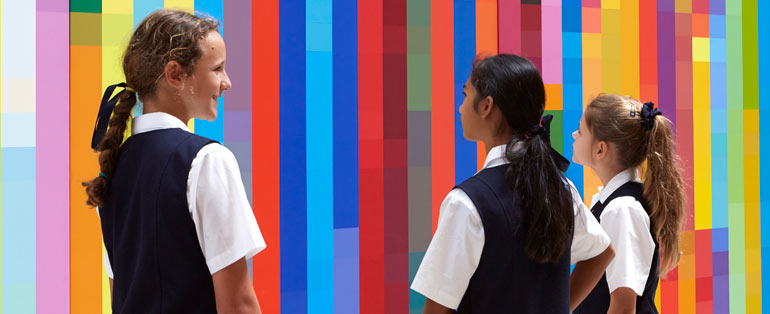 Students in front of Robert Owen's Cadence #1 (a short span of time) 2003
State Street Learning for Life
State Street Learning for Life is the Art Gallery of NSW's education program relating to the Gallery's art collection.
Starting in 2014, this three-year partnership with the global financial institution State Street aims to encourage lifelong learning – from children through to adults – with a variety of programs created to inspire all ages.
One feature is the new monthly program, Third Sundays at the Gallery. There will also be more access options for visitors who are vision- and hearing-impaired.
The Gallery's program for students at universities, art schools and high schools in NSW will also expand, including resources for many more disadvantaged high schools to visit the Gallery.
Del Kathryn Barton, a two-time Archibald Prize winning artist, is the State Street Learning for Life ambassador. Read her blog post

Related
---
About State Street
State Street is one of the world's leading providers of financial services to institutional investors. The company has a long history in making social investments with a focus on educational development, both globally and locally.