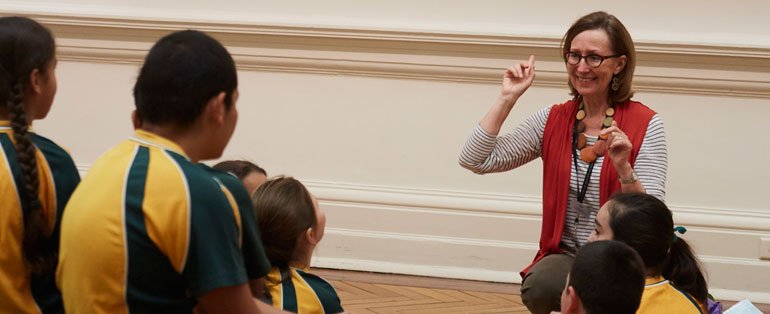 Children's volunteer guides engage with young visitors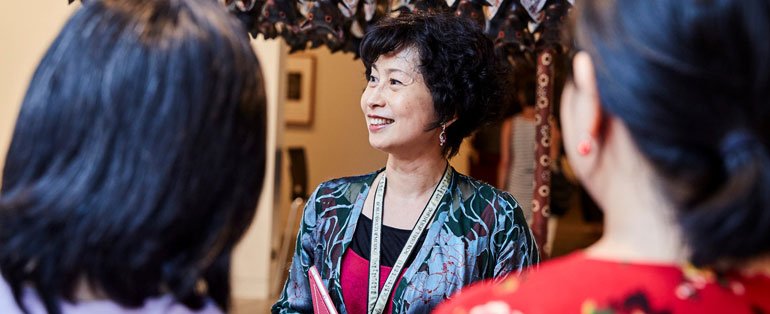 Community ambassadors lead tours in community languages
Become a volunteer
Volunteer your services and become part of the public face of the Gallery.
Volunteers are an essential part of the life of the Gallery, providing various types of support.
Community ambassadors
Community ambassador volunteers support the Gallery through offering guided tours in community languages and promoting the Gallery through community organisations and publications. At present community ambassadors offer tours once a week in Cantonese, Mandarin, Japanese and Korean languages.
We are currently recruiting Japanese community ambassadors. Deadline for applications is Friday 21 June 2019.
Japanese community ambassador role description and application form (PDF 519.2 KB)
Volunteer guides
Our guides provide wide-ranging expert tours of the collection and exhibitions to visitors of all kinds – both adults and children – including school groups, Gallery members, corporate clients and VIPs. Specially trained guides also assist with our access programs for people with disabilities.
We are currently not recruiting new volunteer guides.
Task Force
Task Force volunteers provide invaluable support to the Gallery in many ways including exhibition duties, research assistance, recruitment at membership desks, hospitality at member events, mailouts and administrative duties.
We are currently not recruiting new Task Force volunteers.
Young Members
Gallery members aged 18-40 can volunteer to help with a calendar full of member events and activities that raise funds to support the Gallery's contemporary art collection.