Christmas catalogue 2014
Shop til you Pop!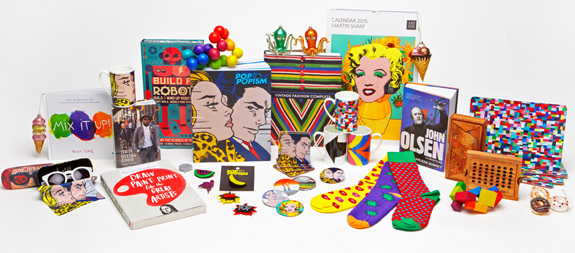 The Gallery Shop is bursting with festive treats and glorious gifts galore. This year we're celebrating in vibrant pop style with exclusive exhibition merchandise, enthralling reads and gorgeous jewellery. We've chosen beautiful art books to captivate at a glance, exciting children's books to explore and a collection of small delights to suit every stocking.
Be sure to drop into the Pop Shop when you visit the Pop to popism exhibition at the Gallery. It's packed with even more playful fashion, quirky designer homewares and funky toys, and you can ask our expert staff for their tips on the perfect pressie. Pop to popism exhibition tickets also make great gifts. They are undated, untimed and have no names on them so even if you're the buyer, you can give them to someone else to use!
Buy at the Gallery Shop online for your chance to win!
Spend over $150 online with the Gallery Shop before 19 December 2014 and be in the running to win.
1st prize is a book pack valued at over $500, featuring 100 painters of tomorrow, Arthur Boyd: agony and ecstasy, Collection highlights from the National Gallery of Australia, The essential Cy Twombly, Light moods south, Landmark landscape photography and more, including the Gallery's 2015 Martin Sharp calendar.
2nd prize is a stunning original framed artwork by Australian children's book illustrator and author Tai Snaith, starring characters from her recent picture book Sticks and stones, animal homes.