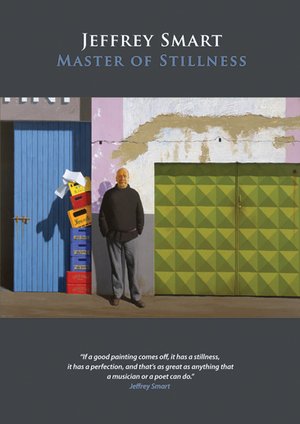 Jeffrey Smart
Master of Stillness
Catherine Hunter Arts Producer | ISBN SMART001
Number of disks: 1
DVD region: 4 - Australia, NZ, Latin America
$24.95
Usually ships within 2–11 business days.
Jeffrey Smart is one of Australia's best known painters with his stark portrayals of the contemporary world. His paintings feature recurring motifs of highways, construction sites and apartment blocks.
"Jeffrey Smart: Master of Stillness" sheds light on his formative years as an artist in Adelaide, revealing the influences that have formed and driven his work for more than seventy years. Filmed partly on location in Smart's home in Tuscany, with observations from curator Barry Pearce and friends Clive James and David Malouf, this documentary begins with the 2012 Adelaide retrospective of the artist's work.
"It's bringing him right back to where he started. Everything about his art was hard wired into him in this city of Adelaide. Here at last we can now see where it began, look at those paintings and work out the meaning of his time, his cycle. So it's very important symbolically, " Barry Pearce, Emeritus Curator, Art Gallery of NSW

Artist: Jeffrey Smart
Similar items