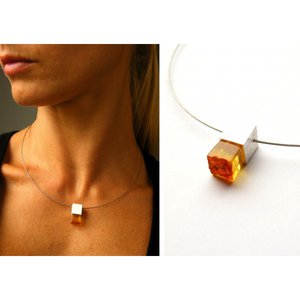 Skaba Yellow Amber Cube and Sterling Silver Necklace
Skaba | ISBN SKABA14X
$100.00
Member's price: $90.00
Usually ships within 2–11 business days.
Exclusive in Australia to the Gallery Shop, Skaba jewellery is handmade, designed and created by two Polish artists: Aleksandra and Luke Jozefiak.
Luke specialises in Baltic amber. As a third generation artisan, he has perfected his skills to make his creations unique. Aleksandra's background in Architectural Design is reflected in her work which is characterized by minimalism in form and simplicity of expression.
Together their work is natural, simple and fresh.
This necklace features a cube of genuine Baltic amber with polished sides and a matt face, set into sterling silver surround with stainless steel wire.
(Nickel-free)

Similar items