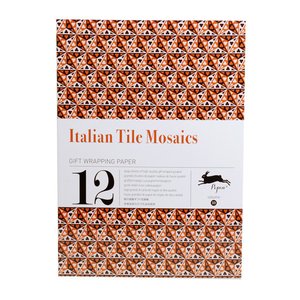 Italian Tile Mosaics Gift Wrapping Paper Book
12 Sheets of High-Quality Gift Wrap
Pepin Press | ISBN 9789460090455
Paperback
$26.00
Member's price: $23.40
Usually ships within 2–11 business days.
The Pepin Press gift wrapping paper books contain large high-quality sheets, decorated with beautiful and exceptional designs.
For many designs, Pepin uses special inks and finishes, such as metallic, day-glo, gold and silver.
Depending on the theme, Pepin has selected a suitable light-weight paper quality. For example, papers with designs in gold, silver or bronze are printed on silky art paper on which the inks show to their best advantage. Designs with an antique or hand-made feel are printed on high-quality creamy off set paper.
They can easily be removed from the books by tearing them along a perforated line.
Specifications
- BOOK SIZE: 25cm x 34.5cm
- GIFTWRAP SIZE: 50cm x 70cm
- SHEETS: Contains 12 sheets of high quality paper
- INCLUDES: 4 page introduction
- SOURCE: Made in Singapore

Similar items