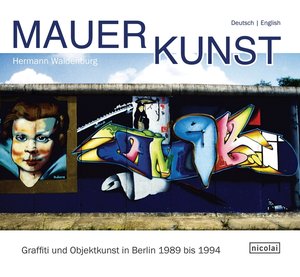 Wall Art
Graffiti and Object Art in Berlin 1989 to 1994
written by Hermann Waldenburg
Nicolai | ISBN 9783894797850
Hardback – 120 pages
$69.95
Member's price: $62.96
Usually ships within 2–11 business days.
The Berlin Wall became a forum for public communication; pictures were painted and sprayed onto both sides, representational, figurative, illustrator, surrealistic in mostly garish colours, rarely in black and white. This compilation of over 100 colour photographs documents early "street art", works that have vanished today. Exciting and vibrant, a unique record of an incredible time in recent history, that remain as a powerful and emotive reminder.
Text in English and German.
Similar items