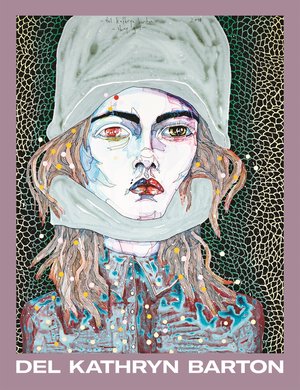 Del Kathryn Barton
Mini Monographs
written by Natalie King
Thames and Hudson | ISBN 9781760760052
Hardback
$30.00
Member's price: $27.00
Usually ships within 2–11 business days.
The new Mini Monographs series is a celebration of Australia's most captivating female artists, featuring a collection of their best loved works.
A new series of monographs on Australian female artists, selected with series editor Natalie King, curator and Enterprise Professor at the Victorian College of the Arts. These books are compact yet perfectly formed. They comprise 96 pages of the artist's favourite works – designed for optimum visual impact and to reach anyone who is inspired by art and beauty.
The extra frisson for these titles comes in the introduction. For each monograph, one luminary from another field will write a personal, powerful essay of 1200 words. It could be an ode to one particular painting; it could be a parallel narrative inspired by themes in the artist's work.
About the Author
Renowned for her vibrant, highly detailed works, Del Kathryn Barton is an acclaimed artist working across painting, drawing, film, textile and sculpture. Born in Sydney in 1972, she attended the College of Fine Arts at the University of New South Wales, graduating in 1993 with a Bachelor of Fine Arts. Since 2000, she has held regular solo exhibitions and has participated in both national and international group shows in London, Berlin, Singapore and New York.
Barton has twice won the prestigious Archibald Prize: in 2008, for her portrait of herself with her son and daughter, Kell and Arella; and in 2013, for her portrait of the actor Hugo Weaving. In 2017, the National Gallery of Victoria presented the large-scale solo exhibition the highway is a disco. She lives and works in Sydney, Australia.
Artist: Del Kathryn Barton
Similar items