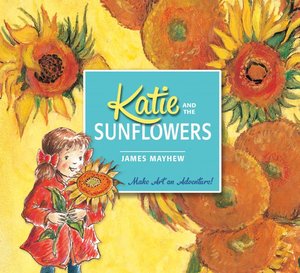 Katie and the Sunflowers
written by James Mayhew
Orchard | ISBN 9781408332443
Paperback – 32 pages
Part of the Katie series.
$15.00
Member's price: $13.50
Usually ships within 2–11 business days.
A fresh new look to celebrate 25 years of Katie making art an adventure! Katie tries to pick the sunflower seeds from famous the Vincent Van Gogh painting, Sunflowers, but when the vase tips over, the flowers go everywhere. Mimi, a little girl from a painting nearby, comes to help Katie, but when Mimi's dog Zazou comes too disaster follows! Includes reproductions of five famous post-Impressionist masterpieces: Sunflowers by Vincent Van Gogh Breton Girls Dancing by Paul Gauguin Cafe Terrace at Night by Vincent Van Gogh Still Life, with Apples and Oranges by Paul Cezanne Tahitian Pastorals by Paul Gauguin.
Similar items