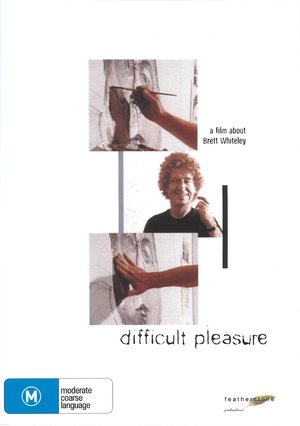 DVD Difficult Pleasure : A film about Brett Whiteley
Featherstone Productions | ISBN 9780646462493
Runtime: 55 minutes
Number of disks: 1
DVD region: 4 - Australia, NZ, Latin America
$34.95
Usually ships within 2–11 business days.
Difficult Pleasure is the only full-length documentary ever made about Brett Whiteley. This revealing portrait of one of Australia's finest painters was filmed in his studio and on location in 1989. It explores Whiteley's art and life and is richly illustrated with some of his finest paintings. He talks of being "born with a gift" and the desire to test and abuse that gift, to enhance it with addiction but ultimately to share it.
Whiteley talks engagingly of eroticism, landscape, figuration and abstraction. He says he sees "sexuality in everything - trees, mountains, in fruit." He talks of painting the nude and the difference between pornography and eroticism. "As long as it's about love, it' ok," he says.
The portrait is a difficult facet of painting and for Whiteley his Van Gogh series is very close to his heart and provides a direct link to the moment that inspired him to become a painter.
The film concludes with sequences of Whiteley's quirky but beautiful 'Birds' and 'Sculptures'.
He advises the young artist, "lie and cheat and distort as much as you can: that is the beginning of difficult pleasure."
Artist: Brett Whiteley
Similar items