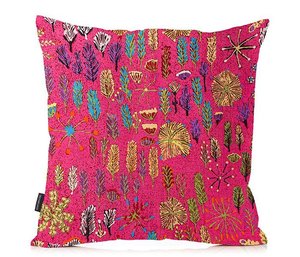 Cushion Cover : Betty Morton
Alperstein Designs | ISBN 9334600012387
$71.00
Member's price: $63.90
Usually ships within 2–11 business days.
Aperstein Designs collaborate with artists and art centres around the country to bring art into our homes. Their latest collection of vibrant, Australian-made cotton cushion covers features art from the Artists of Ampilatwatja in the Northern Territory, Australia.
This vibrant pink cushion cover features licensed artwork by Betty Pula Morton. The community of Ampilatwatja made a conscious decision not to paint 'altyerr' dreaming stories. The artists paint their country where those stories sit. Betty paints her country where she finds bush tucker and seasonal bush medicine plants.
45 x 45cm (approx)
Zip closure 
Print on both side of cushion
Print placement varies between cushions, so each item is a little bit different
Cushion insert not included. Insert recommended 51 x 51cm.
Alperstein Designs is a signatory of the Indigenous Art Code and all purchases directly benefit the artist and their communities.
Dimensions:
45.0cm wide
45.0cm high

Similar items