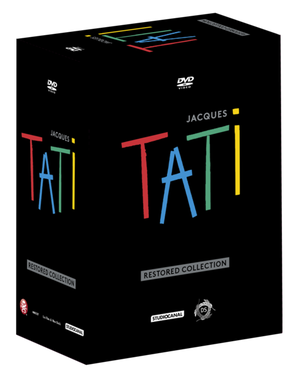 Jacques Tati
The Restored Collection
Madman | ISBN 9322225194410
Runtime: 1108 minutes
Number of disks: 8
DVD region: 4 - Australia, NZ, Latin America
$69.95
Usually ships within 2–11 business days.
6 of Tati's seminal films, (Playtime, Jour de Fête, Mon Oncle, Parade, Traffic and Mr Hulot's Holiday) restored and collected together for the first time!
Daring, colourful, whimsical and fun, Jacques Tati – also known for his infamous comedic character Monsieur Hulot – is one of the great comic icons of French cinema. A Gallic equivalent of Charlie Chaplin or Buster Keaton, Tati's works as director, writer and actor are well-loved classics, appealing to a broad and diverse audience as well as critics. Lovingly and painstakingly restored and available as a collection for the first time in Australia, this boxset unites his 6 classic comedies with 7 rare short films, so that audiences old and new can delight in Tati's charms.
Special features include the feature length documentary THE MAGNIFICENT TATI as well as 7 rare Tati short films, collected for the first time in Australia(ON DEMANDE UNE BRUTE; DEGUSTATION MAISON; FORZA BASTIA; COURS DU SOIR; L'ECOLE DES FACTEURS; GAI DIMANCHE; SOIGNE TON GAUCHE)

Similar items