Stationery → Postcards & Bookmarks: 1 item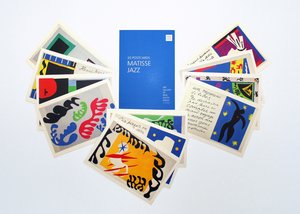 Matisse Jazz Postcard Pack
written by Henri Matisse
Art Gallery of NSW | ISBN 9316521017016
$20.00
Member's price: $18.00
Usually ships within 2–11 business days.
This exclusive card pack contains 21 postcards, each featuring a different image taken from the pages of Henri Matisse's landmark 1947 illustrated book 'Jazz'.
The Art Gallery of NSW has recently acquired one of only 250 original copies of 'Jazz', and the pages star in the Gallery's May 2015 exhibition 'Matisse and the moderns'.

Artist: Henri Matisse
Similar items