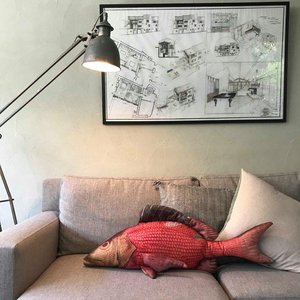 Fish Cushion : Bruce
White Moose Designs | ISBN SOFTBRUC
$109.00
Member's price: $98.10
Usually ships within 2–11 business days.
Bruce has a mean streak. Don't let his inviting scales fool you, this is one mobster fish you don't want to cross. Keeping the schools of fish in line with his sharp set of teeth, you don't want to get your butt nipped by these on the couch!
Meet his other fish friends Harold, Lori and Charlie.
Bruce is a large fish cushion who looks great on the couch, occasional chair or bed. He is a bright pop of colour when used in neutral colour schemes such as greys, whites and other soft hues. For those with more daring interiors Bruce finds his space and looks great.
Size: 91 x 22 x 41 cm
Material: Printed woven cotton cloth

Similar items