Homeware → Home Textiles: 30 items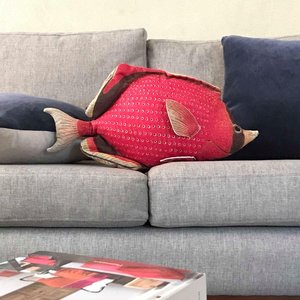 Fish Cushion : Lori
White Moose Designs | ISBN SOFTLORI
$79.00
Member's price: $71.10
Usually ships within 2–11 business days.
Lori is the prom queen of the coral reef. Her beauty is adored by all the fish in the sea and unmatched by any other.
Like her close blue cousin, her memory is quick to fade, so she is always excited for adventures and to make new friends.
Find Lori's friends Harold, Bruce and Charlie.
Lori's beautiful pinks and golds look great in neutral colour schemes. Lori the fish can also be styled in more daring interiors with colours including blues, pinks, yellow and green. Let your imagination bring her to life in your home.
Size: 57 x 35 x 38
Material: Printed woven cotton

Similar items