Homeware → Home Textiles: 29 items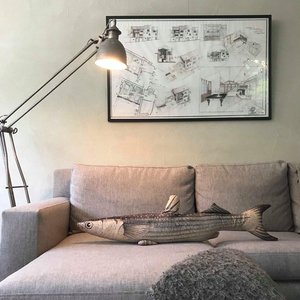 Fish Cushion : Harold
White Moose Designs | ISBN SOFTHARO
$109.00
Member's price: $98.10
Usually ships within 2–11 business days.
Meet Harold. He is the grandfather of the sea. He has developed a lifetime of wisdom and like a good scotch he gets better with age. His cave is lined with the most regal corals and all the fish in the sea seek his advice and direction.
Harold the fish cushion adds a level of cheeky suave to any room.
This large fish cushion looks great in masculine room styling, pop him on a leather chesterfield, on a grey fabric armchair or in the office to bring life and character to the room.
Meet his other fish friends Bruce, Lori and Charlie.
Size: 102 x 14 x 38cm
Material: Printed woven cotton

Similar items