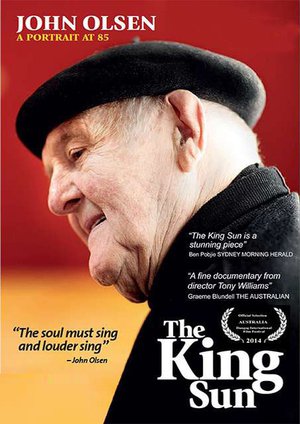 The King Sun : John Olsen at 85
Four Donkey Films | ISBN KINGSUN
Runtime: 54 minutes
$30.00
Usually ships within 2–11 business days.
"What I am trying to do is to get the life of the sun, the energy of the sun, the intrusiveness of the sun. Without that form of energy there is no life." - John Olsen
In March 2013, John Olsen, one of Australia's greatest living artists, embarked on the second largest mural of his career. He was 85 years old.
In The King Sun, director Tony Williams and producer Anna Hewgill follow the progress of John Olsen's mural from the arrival of the 8 blank panels to the transportation, delivery and installation of the giant painting in the Collins Square development in Melbourne.
The film is a record of a great Australian at work on possibly his final mural. It's also an uplifting exploration of a life in art, and a reflection on mortality, optimism and happiness.
The filmmakers take us inside Olsen's Southern Highland home where Olsen opens up about the eastern philosophies and techniques that have guided his practice, and we hear from Olsen's wife, son and daughter. John Olsen is in the autumn of his life and in The King Sun he reflects on what he was like as a younger man. We flash back to archival footage of John as a young, vigorous and driven artist working on Salute to Five Bells, and winning the Archibald. And we see how much he has mellowed with time.
- ABC1
Artist: John Olsen
Similar items