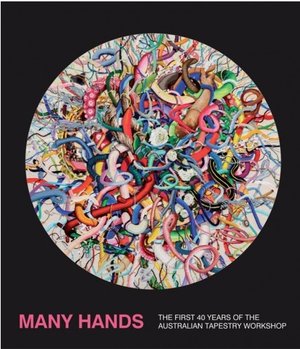 A celebration of the first 40 years of the Australian Tapestry Workshop, one of Australia's largest producers of public art.
This elegant, four-colour illustrated hardback celebrates the first 40 years of the Australian Tapestry Workshop.
Using the same techniques employed in Europe since the 15th century, the ATW's skilled weavers work with artists from Australia and overseas to produce tapestries that are known for their vibrancy, technical accomplishment and inventive interpretation.
Notable Australian and international artists who have collaborated with the ATW's weavers over these 40 years include Brook Andrew, Arthur Boyd, John Coburn, Sally Gabori and the Kaiadilt senior female artists from Bentinck Island, Alun Leach-Jones, David Noonan, John Olsen, Ginger Riley, Gulammohamed Sheikh, Sangeeta Sandrasegar, Frank Stella, Imants Tillers, Yvonne Todd, Keith Tyson, Jorn Utzon and John Wolseley.
These works hang in Australian embassies and high commissions, as well as other significant public and private collections around the world. ATW tapestries can be seen in many public buildings, including the Great Hall at the National Gallery of Victoria (International) and the Sydney Opera House.
Similar items