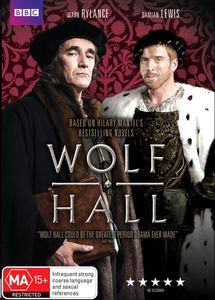 Wolf Hall
Roadshow | ISBN 9397810278196
Runtime: 350 minutes
Number of disks: 2
DVD region: 4 - Australia, NZ, Latin America
$29.95
Usually ships within 2–11 business days.
Wolf Hall presents an intimate portrait of Thomas Cromwell (Mark Rylance), the brilliant consigliere to King Henry VIII (Damian Lewis), as he manoeuvres the corridors of power at the Tudor court.
Directed by Peter Kosminsky, this powerful series follows the complex machinations and back room dealings of Cromwell--a pragmatic and accomplished power broker, from humble beginnings and with an enigmatic past. Cromwell serves king and country while navigating deadly political intrigue, the King's tempestuous relationship with Anne Boleyn (Claire Foy) and the religious upheavals of the Protestant reformation.
Similar items