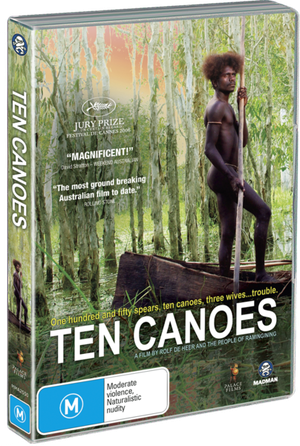 Ten Canoes
Madman | ISBN 9322225053472
Runtime: 92 minutes
Number of disks: 3
DVD region: ALL

staff recommendation
$22.95
Usually ships within 2–11 business days.
ne hundred and fifty spears, ten canoes, three wives...trouble.
Set centuries ago in tribal times, Ten Canoes is a surreal tragi-comedy. Dayindi (played by Jamie Gulpilil, son of the great David Gulpilil) covets one of the wives of his older brother. To teach him the proper way, he is told a story from the mythical past, a story of wrong love, kidnapping, sorcery, bungling mayhem and revenge gone wrong.
In English storytelling (by David Gulpilil) and subtitled Ganalbingu language of the remote Arafura Swamp region of north-eastern Arnhem Land, this is a film unlike any you have ever seen.
Synopsis
A parable of forbidden love, narrated by Australian icon David Gulpilil and starring his son Jamie as the covetous youth Dayindi, Ten Canoes is a ground-breaking glimpse into Aboriginal life centuries before European settlement.
Similar items