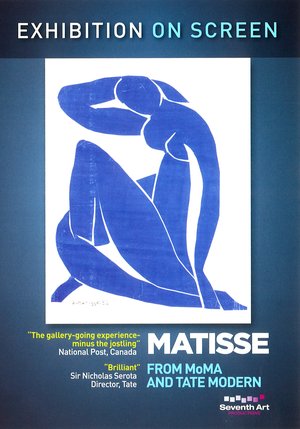 Matisse From Moma & Tate Modern
Seventh Art Productions | ISBN 5060115340410
Runtime: 97 minutes
Number of disks: 1
DVD region: ALL
Part of the Exhibition On Screen series.
$29.95
Usually ships within 2–11 business days.
Hailed as the most successful exhibition in Tate Modern's history, you can now catch Henri Matisse: The Cut-Outs at your local cinema, featuring exclusive new footage from The Museum of Modern Art in New York, where it is currently on view through February 8, 2015.
Audiences are invited to enjoy an intimate, behind-the-scenes documentary about this acclaimed exhibition with contributions from people who knew Matisse and experts such as curators, historians, and Tate director Nicholas Serota and MoMA director Glenn D. Lowry. Plus there are breathtaking, specially commissioned performances by Royal Ballet principal dancer Zenaida Yanowsky and jazz musician Courtney Pine. Acclaimed British actor Simon Russell Beale brings insight and emotion to the words of Henri Matisse himself, while actor Rupert Young (Merlin) narrates
Artist: Henri Matisse
Similar items