DVDs & CDs → Documentary DVD: 31 items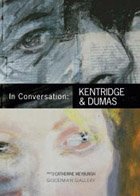 In Conversation : Kentridge and Dumas
Contemporary Arts Media | ISBN KENTRDVD
Runtime: 72 minutes
$40.00
Usually ships within 2–11 business days.
William Kentridge and Marlene Dumas are two of the most celebrated names in international contemporary art. In In Conversation: Kentridge & Dumas, the two South African artists speak frankly about their work, their studio practice, their inspirations, and the challenges of success.
The film shows the two engaged in intense discussion about drawing, painting and filmmaking, and includes footage of the artists in their studios and of their works.

Artists:
Similar items