DVDs & CDs → CDs: 5 items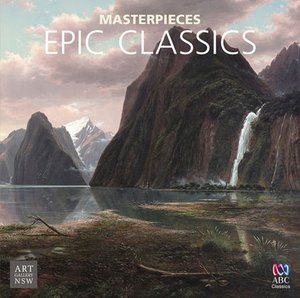 A celebration of the grandeur and splendour of orchestral music, and its power to lift the human spirit and open up new visions for the future.

Music by Strauss, Brahms, Beethoven, Tchaikovsky, Copland, Mendelssohn and more. Art by Eugene von Guérard, Conrad Martens and WC Piguenit.
Timeless art and great music: ABC Classics and the Art Gallery of New South Wales present a new collection of albums bringing together culture from through the ages. From nineteenth-century visions of grandeur in Epic Classics to the sacred tradition in Divine Classics, and from Australia's own artistic heritage to the world of the Modernists, these albums provide rich insights by bringing art and music together.

Previous collaborations between ABC and AGNSW include music audio-guides for the blockbuster exhibitions The Greats, Frida Kahlo and Diego Rivera, and Nude: art from the Tate collection with the acclaimed Nude Live performances in collaboration with the Sydney Dance Company and the Sydney Festival.
Track Listing:
1. R. STRAUSS Thus Spake Zarathustra: Introduction
2. BRAHMS Symphony No. 1: I. Un poco sostenuto – Allegro
3. BEETHOVEN Symphony No. 7: II. Allegretto
4. TCHAIKOVSKY Symphony No. 6 'Pathétique': III. Allegro molto vivace
5. SAINT-SAËNS Symphony No. 3 'Organ': IIb. Maestoso – Allegro
6. COPLAND Fanfare for the Common Man
7. MAHLER Symphony No. 2 'Resurrection': III. Scherzo
8. DVOŘÁK Symphony No. 9 'From the New World': II. Largo (excerpt)
9. MENDELSSOHN The Hebrides (Fingal's Cave)
10. BEETHOVEN Symphony No. 9: Ode to Joy

Artists:
Similar items