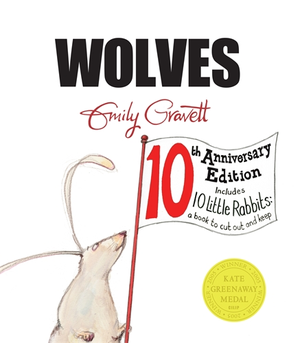 Wolves : 10th Anniversary Edition
written by Emily Gravett
Macmillan Children's Books | ISBN 9781447299707
Paperback – 40 pages
$7.50
Member's price: $6.75
Usually ships within 2–11 business days.
Rabbit borrows a book about wolves from the library. He can't put it down! But soon a sinister figure with sharp claws and a bushy tail starts to creep right off the pages. You won't believe your eyes - but if you're a rabbit, you probably should.
Brilliantly witty, ingeniously constructed, and with amazing artwork throughout, Wolves was first published in 2005 and thrilled critics and booksellers alike. Wolves was Emily Gravett's debut book, and with it she won both the Macmillan Prize for Illustration and her first Kate Greenaway Award.
This special tenth anniversary paperback edition celebrates the inventiveness and beauty that made the original such a classic. Featuring an additional mini book to cut out and keep; it's called 10 Little Rabbits, and it's Wolf's favourite book...

Similar items