Books → Sculpture & Land Art: 34 items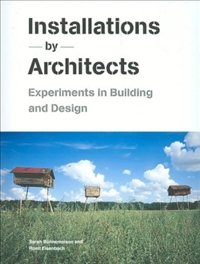 An installation is usually the end product for an artist, but for architects it can also be a preliminary step in an ongoing design process. Direct experimentation with architecture's material and social dimensions engages the public around issues in the built environment that concern them and expands the ways that architecture can participate in and impact people's everyday lives.
The first survey of its kind, this book features fifty of the most significant projects from the last twenty-five years by today's most exciting architects, including Anderson Anderson, Philip Beesley, Diller + Scofidio, John Hejduk, Dan Hoffman, and Kuth/Ranieri Architects. Projects are grouped in critical areas of discussion under the themes of tectonics, body, nature, memory, and public space, and supplemented by interviews with the project architects and the discussions of critics and theorists.
Similar items