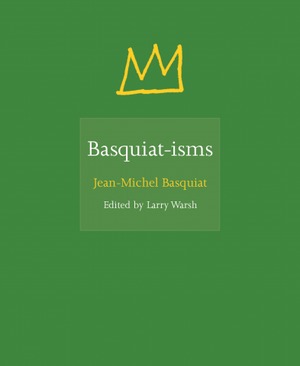 A collection of essential quotations and other writings from artist and icon Jean-Michel Basquiat
One of the most important artists of the late twentieth century, Jean-Michel Basquiat explored the interplay of words and images throughout his career as a celebrated painter with an instantly recognizable style. In his paintings, notebooks, and interviews, he showed himself to be a powerful and creative writer and speaker as well as image-maker. Basquiat-isms is a collection of essential quotations from this godfather of urban culture. In these brief, compelling, and memorable selections, taken from his interviews as well as his visual and written works, Basquiat writes and speaks about culture, his artistic persona, the art world, artistic influence, race, urban life, and many other subjects. Concise, direct, forceful, poetic, and enigmatic, Basquiat's words, like his art, continue to resonate.
Jean-Michel Basquiat (1960–88) was an American artist. He has been the subject of retrospectives at the Whitney Museum of American Art, the Serpentine Gallery, the Brooklyn Museum, the Foundation Beyeler, Fondation Louis Vuitton, and the Barbican, among other venues, and his work is in the permanent collections of major museums around the world. Larry Warsh is the editor of Basquiat's Notebooks and two books by Ai Weiwei, Humanity and Weiwei-isms (all Princeton). Warsh was an early collector of Basquiat and a member of the Basquiat Authentication Committee.
Artist: Jean-Michel Basquiat
Similar items