Micky Allan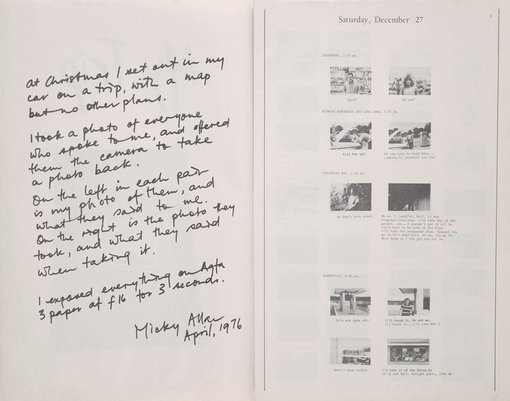 My trip
After Christmas in 1975 Micky Allan took a road trip through rural Victoria equipped with a map but no itinerary. She set herself the task of photographing everyone she met along the way and invited each of her subjects to take a photograph themselves. Here, the photograph functions as an agent of forced social engagement that transforms strangers into artistic collaborators. The work documents Allan's personal journey but also positions her within a broader public framework.
Allan's My trip is an important contribution to conceptual and post-object art practice in Australia. It survives as a case study of a woman's mobility during the active years of second-wave feminism, both literally and politically, and highlights photography's capacity to simultaneously document and dictate experience.
Issues for consideration
Imagine approaching strangers, taking their photograph then offering your camera for them to take any image they liked for you to incorporate into your final artwork. How much control would you have over the final work? Would the images be more important than the place, time and details of your journey?
Read the text that Allan has chosen to be part of her final work. How was she received by the people of rural Victoria? What was their attitude to her practice as an artist, as well as the fact she was a woman travelling alone?
Research second-wave feminism. Can you see the impact of this on Allan's photographic practice?