Home: Aboriginal art from NSW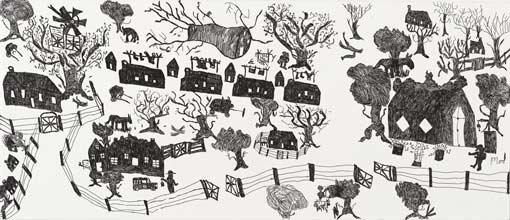 Brings together online resources and links to support the printed education kit Home: Aboriginal art from New South Wales.
Home celebrates the work of over 25 significant Aboriginal artists who belong to nations and language groups that today fall within the area defined as New South Wales. Their work highlights the cultural diversity of Aboriginal nations, or language groups, across the state, and shared concepts that bind Aboriginal artists and their communities together.
The art is drawn from the collection of the Art Gallery of NSW along with other regional galleries and organisations, as noted below. An exhibition of the same name was held at the Gallery in 2012.
Featured artists and themes
1 Carving traditions
Roy Barker Senior
Goondee Aboriginal Keeping Place
Laddie Timbery
Bidjigal Aboriginal Arts and Crafts
2 Printed histories
Badger Bates
Art Gallery of NSW
View featured works
Kevin Gilbert
Art Gallery of NSW
View featured work
3 Woven forms
Lorraine Connelly-Northey
Art Gallery of NSW
View featured works
Phyllis Stewart
Wollongong City Gallery
4 Re-used and re-purposed
Karla Dickens
Grafton Regional Gallery
Euraba artists and printmakers
Moree Plains Gallery
5 Ancestral narratives
Julie Freeman
Art Gallery of NSW
View featured works
Cheryl Davison
Art Gallery of NSW
View featured works
6 North coast installation
Genevieve Grieves
Art Gallery of NSW
View featured work
Frances Belle Barker
collection, the artist
7 Black-and-white memories
Roy Kennedy
Art Gallery of NSW
View featured work
Tommy McRae
Art Gallery of NSW
View featured work
8 La Per
Peter Yanada McKenzie
Art Gallery of NSW
View featured works
Lola Ryan
Art Gallery of NSW
View featured work
9 Digital images
r e a
Art Gallery of NSW
View featured work
Brook Andrew
Art Gallery of NSW
View featured work
10 Picturing the mob
Michael Riley
Moree Plains Gallery
Mervyn Bishop
Art Gallery of NSW
View featured works
11 River memories
Elaine Russell
Art Gallery of NSW
View featured works
Robert Campbell Jnr
Art Gallery of NSW
View featured work
12 Moree mob
Jim Stanley
Moree Plains Gallery
Margaret Adams
Art Gallery of NSW
View featured work
13 Imagining the everyday
HJ Wedge
Art Gallery of NSW
View featured work
Mickey of Ulladulla
Mitchell Library, State Library of NSW
Print publications
Key Gallery texts with further information about some of the artists in this resource: