Albert Namatjira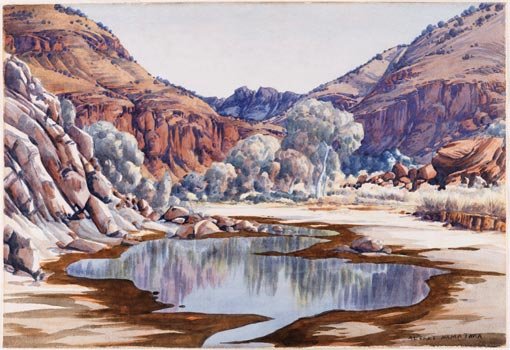 Albert Namatjira (1902-1959) was the pioneer of the Hermannsburg school of watercolourists at Ntaria (Hermannsburg). Namatjira quickly mastered the techniques taught to him by Rex Battarbee in the 1930s and while not the first Aboriginal artist to work in a European style, he is certainly the most famous. Ghost gums with luminous white trunks, palm-filled gorges and red mountain ranges turning purple at dusk became hallmarks of the Hermannsburg school. However, the diverse works in this exhibition reveal the great depth and breadth of styles beyond these characteristics.
During Namatjira's lifetime, his skills in European watercolour painting were interpreted as evidence of the potential success of assimilation policies. In 1957, Namatjira became the first Aboriginal person to be granted conditional Australian citizenship. This entitled him to limited social freedoms and to live in Mparntwe (Alice Springs), although he was prohibited from purchasing land which caused him profound despair. His relations, including his children, were not permitted the same privileges.
All five of Namatjira's sons – Enos, Oscar, Keith, Ewald and Maurice – followed his example and established artistic careers, as did Namatjira's son-in-law Benjamin Landara, who was married to his daughter Maisie.
Questions and activities
Look at the linocut Albert Namatjira 1959 by Noel Counihan in the Gallery's collection and speculate on why Counihan has depicted Namatjira in this way.
Albert Namatjira started us all off. We're all proud of him… So we've just got to carry on the good work. Consider this quote from Doug Abbott in Alison French, Seeing the centre: the art of Albert Namatjira 1902-1959, 2002. What was Namatjira's artistic legacy? Learn about his influence on artists such as Ginger Riley Munduwalawala and Clifford Possum Tjapaltjarri. Discuss the ways in which Namatjira has been important for the development of Aboriginal art practice in Australia.
What non-Aboriginal people didn't understand, or chose not to understand, was that he was painting his country, the land of the Arrernte people. He was demonstrating to the rest of the world the living title held by his people to the lands they had been on for thousands of years. Consider this statement by Galarrwuy Yunupingu in Wally Cauana (ed) Windows on the Dreaming, 1989. Discuss Namatjira's intentions in creating his work. What ideas and approaches does he share with other Aboriginal artists?
View the video Albert Namatjira and discuss what Namatjira's words indicate about his relationship with the country he depicts. Describe the ways that knowledge of country and techniques are passed on to members of the younger generations. Consider why Namatjira's granddaughter Lenie Namatjira chooses to paint only her father's country.
Palm Valley 1940s
This painting depicts Namatjira's mother's country and documents his artistic, cultural and proprietorial claim to this land. Namatjira presents Palm Valley as a lush oasis, protected by the majestic mountains of the West MacDonnell Ranges. The work is rendered in subdued tones, with the stillness of the reflection enhancing the tranquillity of the overall scene. In Palm Valley, Namatjira pays particular attention to the play of light and shadow across the landscape, successfully capturing the brilliance and clarity of central Australian light. This detailed view of Palm Valley, lovingly and precisely rendered reflects Namatjira's intimate attachment to, and in-depth knowledge of, this country, his Western Arrernte home.
Question and activity
Study Palm Valley 1940s and compare it to other Natamjira works in the exhibition, such as Catherine Creek, Northern Territory c1950 and North ranges looking south c1950s. Identify ways that these works express the importance of these places and Namatjira's close connection to and knowledge of his country. Consider viewpoint, subject and detail.