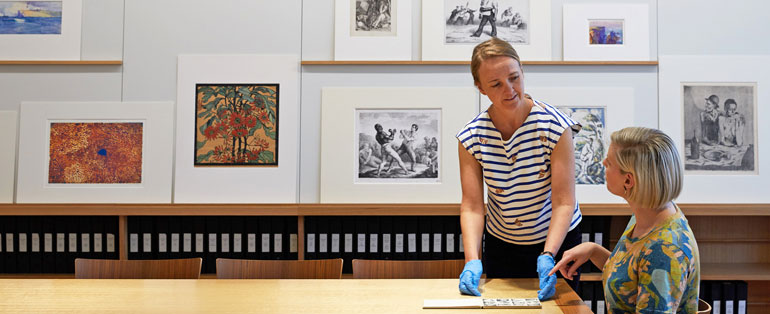 Study room
In the study room you can see works on paper from the Gallery's collection of over 21,000 prints, drawings, photographs and watercolours by Australian and international artists from the 15th century to the present day, as well as sketchbooks, artist books and printing blocks.
Many works on paper are rarely exhibited and only for short periods of time. The study room provides public access for individuals and groups to view and research works of art in a quiet and intimate environment.
Visit us
Visit the study room anytime during its opening hours to see the works on display or find out more about the collection. Just ring the bell if the door is closed. Entry may be restricted if the room is being used for a booked visit.
Make a booking if you are visiting as a group or if you wish to see specific works so that we can prepare the works and ensure the room is available. There is a limit of 12 people in the room at one time.
The collection
For information on the collection you can browse reference material available in the study room, or search online anytime using our collection search.
To browse, select Media then choose a media type (eg print, drawing, photograph) from the list that appears.
---
Past displays
Are you planning to visit?
Due to COVID-19 restrictions, we've had to make changes to our normal operations, including issuing free timed-entry tickets to enter the Gallery.
Read the latest visit information