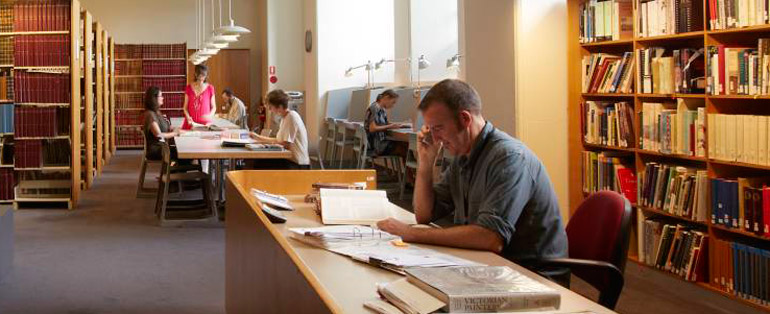 Edmund and Joanna Capon Research Library
One of the most outstanding collections of fine art publications, rare books and manuscripts in Australia
The library's catalogue reflect the Gallery's artwork collection areas, with an emphasis on Australian and British art and in more recent years contemporary art, Asian art and photography. Our ephemera files documenting Australian art and artists now comprise over three-quarters of a million items, beginning with early exhibition catalogues and pamphlets through to catalogues and reviews of current shows. The library also holds extensive files on Australian art societies, competitions, prizes and art institutions as well as press clippings on the arts. It also houses the archives.
Services
The library is open to all members of the public to do their own research.
Free library tours and instruction in the use of our resources are available by appointment.
All resources must be used on site. We do not lend to the public or issue inter-library loans.
Photocopying is available. Charges are 20c (A4) and 30c (A3) for black-and-white and $1 (A4) and $2 (A3) for colour, per page. You are welcome to bring a digital camera to photograph material instead.
Within the library there is a dedicated audio-visual room for watching dvds and videotapes and listening to audiotapes.
Our reading room can accommodate 22 researchers. There is wireless internet access and power points for personal computers.
Reference librarians are available on site to help with research and answer enquiries.
Research enquiries by letter or fax or through our online reference enquiry form are available to researchers living outside Sydney for up to three artworks. For more extensive enquiries, you will need to visit the library in person.
Are you planning to visit?
Due to COVID-19 restrictions, we've had to make changes to our normal operations, including issuing free timed-entry tickets to enter the Gallery.
Read the latest visit information