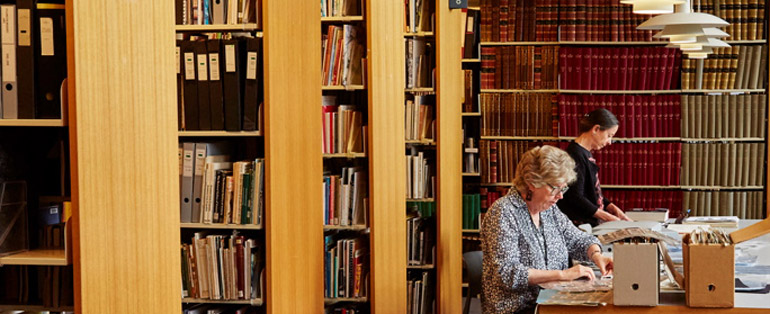 Visiting the archive
Access conditions for the archive
While using the Gallery's archive, we request that all researchers observe the following conditions:
Bring photo ID such as a drivers licence or student card and complete an access application form (see right).
Do not smoke, eat, drink or talk on a mobile phone while in the archive.
Do not take bags, briefcases, coats or enclosed containers into the archive.
Write only with a pencil.
Handle all records carefully. Any damage found in material issued should be reported to staff.
Do not rearrange or interfere in any way with the order of archival material.
Where appropriate, the archive requires that a copy of any book, journal article or other 'end product' which has appeared as a result of substantial use of Art Gallery of

NSW

material be deposited at the archive.
Where research at the archive results in publication based partly or wholly on Gallery records, and permission has been obtained for quotation, acknowledgment should be made to 'the Research Library and Archive, Art Gallery of New South Wales'.
Researchers who wish to reproduce artworks from the archive must follow correct procedure for doing this, according to the copyright laws of Australia. Permission for publication must be sought from the artist and the correct artist fees paid, where appropriate.
Legal access to the archive
The State Records Act 1998 governs public access to state records and promotes the principles of accountability and access. It requires public sector bodies to create records of their business and administrative transactions and to ensure that records of significant value are preserved. The underlying principle is that all relevant records of enduring value will be publicly available in due course. According to this Act, those Art Gallery of NSW records which are open for public use are ones at least 30 years old.
For a record to be available under the Act it must be the subject of an 'open to public access' direction. An access direction is a direction that a series, group or class of records is open to public access (an 'OPA direction') or closed to public access (a 'CPA direction'). Although most records more than 30 years old are open to public access, some contain information, such as sensitive personal information, requiring a longer period of closure. Records may also be withheld from public access to ensure their safe custody and proper preservation. If a record is not the subject of an access direction, you can apply to the responsible public office for an OPA direction to be made. There is no application fee and the public office must deal with your application within 30 days.
The archive of the Art Gallery of NSW preserves and makes available both the Gallery's own records and a wide range of deposited manuscript or private records. As the State Records Act does not apply to the records of private individuals, researchers should be
aware that access to these records will be governed by relevant legislation, such as the Privacy and Personal Information Act and the Code of Practice for the Use of Public Sector Agency Records for Research Purposes, as well as by specific access conditions for deposited collections.
Archive access application form (PDF 60.5 KB)
Are you planning to visit?
Although general access to the library and archive is not currently possible, researchers can make an appointment to visit, specifying the resources they wish to use in advance, with at least two days' notice.
10am-4pm, Tuesday-Friday
library@ag.nsw.gov.au
Tel 02 9225 1785
Do your research online
Search the research library and archive's online catalogue