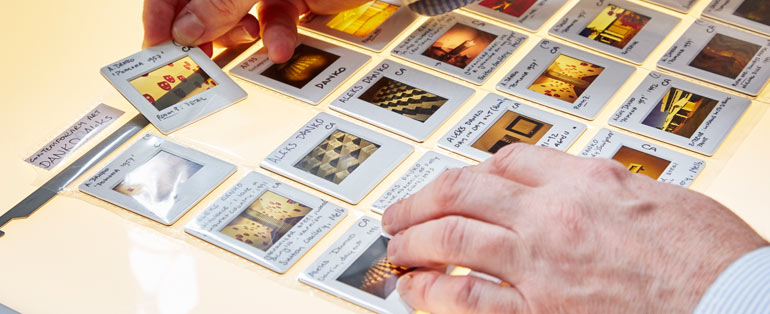 Using images from the archive
The Art Gallery of NSW holds the archives of many artists, art societies and commercial galleries, as well as our own administration archive, and we can supply digital images of this material for a range of uses including online and print publishing as well as some commercial products.
We have begun the process of cataloguing and digitising these archives – a huge undertaking that will take considerable time.
Who can use the images
Images of material on this website and in the archive may be used for research, study and other related exceptions as defined by section 40 of the Copyright Act 1968 (as amended) without applying for specific permission.
All other uses of the content of this site require Gallery permission and permission of the copyright owner (where applicable).
What we can supply
The Gallery supplies photographic images of materials in the archive for a range of uses. Fees are structured on the size of the image supplied. Due to cultural issues, some works in the Aboriginal and Torres Strait Islander collection or photographs of Indigenous ceremonies or people may not be available for reproduction.
Copyright
We can supply details of copyright holders where possible. It is the sole responsibility of the client to gain copyright permission to reproduce the image from the copyright holder of the material requested.
File types we supply
For publications and products: high-resolution 300dpi digital files
For multimedia, internet/intranet and email newsletters: low-resolution 72dpi digital files
For research or study: low-resolution 72dpi JPEG files or PowerPoint files
Material charges
Charges may vary depending on order. A high-resolution publication-quality digital image supplied electronically is $150 plus GST. A low-resolution (72dpi) digital image supplied electronically is $60 plus GST.
Research
Additional research is charged at $85 per hour.
Delivery
We endeavour to supply files as quickly as possible. However, as the archive is still in the process of being catalogued and digitised, in order to supply high-quality image files with accurate captions, please allow up to three months from request to the completion of your order. This includes requests for images that may have been published already.
How to order an image
Find the material you want by arranging to visit the archive or making an online reference enquiry through our library and archive staff. See Visiting the archive and Reference enquiry
Email your list of images, the file sizes required and the intended use to imagereproduction@ag.nsw.gov.au
Your application will be confirmed, a quote provided and a tax invoice and image licence will be issued.
On receipt of payment, you will be advised of an estimated delivery date.
On completion of the job, the material will be sent to you via Hightail download.
Contact us
If you have questions related to images of material from the archive
Tel 02 9225 1638
Fax 02 9225 1701
imagereproduction@ag.nsw.gov.au
Mail
Rights and Image Licensing
Art Gallery of NSW
Art Gallery Road
Sydney NSW 2000 Australia
---
See also