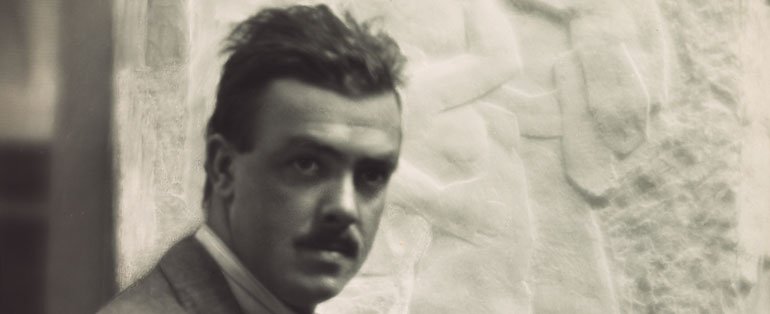 Detail of Rayner Hoff, the sculptor 1920s, by Harold Cazneaux, Art Gallery of New South Wales collection, 93.1975
Rayner Hoff archive
Working between the First and Second World Wars, Rayner Hoff (1894–1937) transformed Australian sculpture. He was our foremost art deco sculptor and a leading figure in art education, through his roles at East Sydney Technical College (now the National Art School).
The Rayner Hoff archive at the Art Gallery of NSW was assembled by the artist and is his main archival collection, although it is an incomplete documentation of his life and art. The core of the archive is his library. The selection reproduced online includes some of his sketches as well as objects used by the artist.
Overview of this archive
Archive of five boxes containing sketchbooks, notebooks, original artworks, objects and printed matter as well as books from the artist's library.
Dimensions: 85cm
Date: 1910–1937
Gift of the artist's family 2018
ARC414
About this artist
Selected items