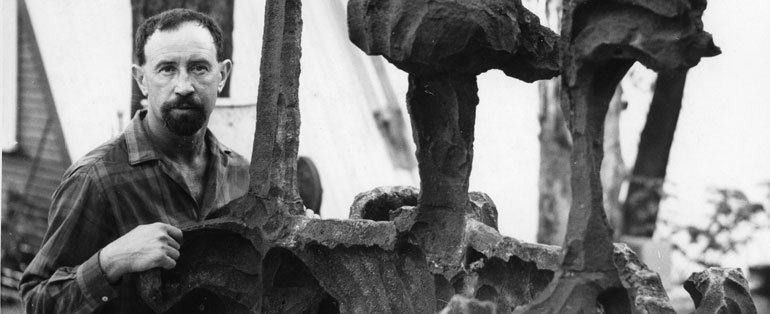 Herbert Flugelman with his work Equestrian II 1967, unknown photographer, Herbert Flugelman archive, Art Gallery of New South Wales archive © Herbert Flugelman. Licensed by Copyright Agency
Herbert Flugelman archive
Herbert 'Bert' Flugelman (1923–2013) is best known for his large-scale works of simplified geometric forms in stainless steel. He was involved in running the Tin Sheds workshop at the University of Sydney and was an influential teacher of sculpture for three decades.
Flugelman's personal records are now dispersed among a number of public institutions. The Herbert Flugelman archive at the Art Gallery of NSW was assembled by the artist's family after his death. The core of this archive are objects from performances and happenings that Flugelman organised, along with his slide collection. The selection reproduced online includes images of the artist and some of his works.
Overview of this archive
Archive of 15 boxes containing exhibition documentation, original artworks, performance objects, images of artworks, posters, objects and printed matter.
Dimensions: 120cm
Date: 1965–1985
Gift of the artist's family 2014
ARC348
About this artist
Selected items