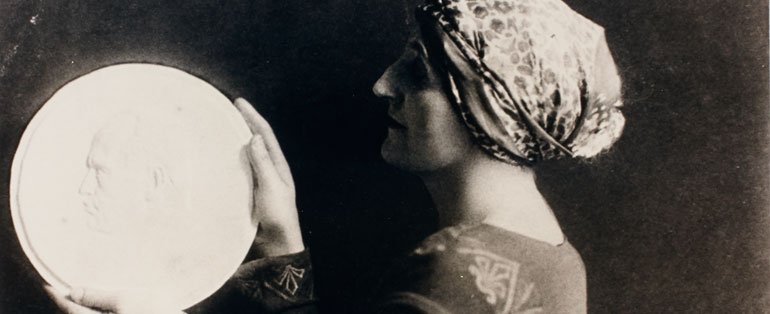 Dora Ohlfsen with the plaster cast of her 1922 medallion of Mussolini, 1922, unknown photographer, Dora Ohlfsen archive, Art Gallery of New South Wales archive
Dora Ohlfsen archive
In the early 20th century, Australian-born, Italian-based artist Dora Ohlfsen (1869–1948) was one of the world's most highly regarded sculptors and designers of medals and medallions. In Australia, she is best known for her ANZAC commemorative medal.
The Dora Ohlfsen archive at the Art Gallery of NSW was assembled by family members, curators and researchers after her death. It is the artist's main archival collection as the contents of her studio were dispersed after she died and it is assumed that most material was destroyed. The selection reproduced online include images of some of her works and the dedication of her Formia war memorial as well as photographs of the artist.
Overview of this archive
Archive of three boxes containing official records, reports and certificates, exhibition documentation, press reviews, original artworks, images of artworks, personal images and printed matter.
Dimensions: 60cm
Date: 1896–1926
ARC366
About this artist
Selected items