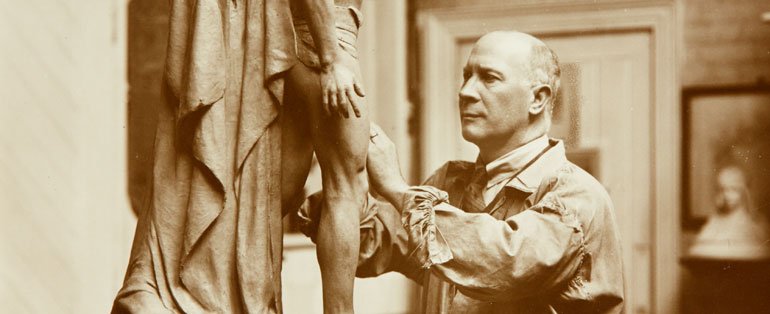 Bertram Mackennal working on the plaster cast of the figures for his Blackburn War Memorial, c1923, unknown photographer, Bertram Mackennal archive, Art Gallery of New South Wales archive
Bertram Mackennal archive
From the 1890s to 1910s, sculptor Bertram Mackennal (1863–1931) became the most internationally successful artist that Australia had produced. He was the first Australian artist to be elected a member of the British Royal Academy and the first to be knighted.
The Bertram Mackennal archive at the Art Gallery of NSW was assembled by his granddaughter Pauline Kraay. It is the artist's main archival collection. Organised according to work files, it primarily documents individual artworks. The selection reproduced online include images of some of his works and the unveiling of his King Edward VII memorial as well as photographs of the artist.
Overview of this archive
Archive of six boxes containing correspondence, official records, reports and certificates, exhibition documentation, press reviews, images of artworks, personal images and printed matter.
Dimensions: 90cm
Date: 1895–1933
Gift of the artist's granddaughter, Pauline Kraay, 2012
ARC354
About this artist
Selected items