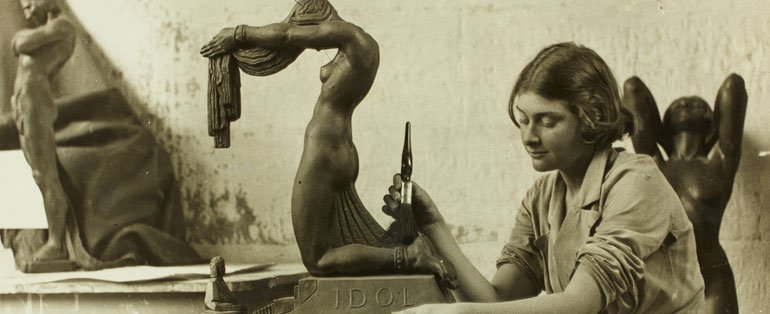 Barbara Tribe working on Idol, 1931, by World Photographer, Barbara Tribe archive, Art Gallery of New South Wales archive
Barbara Tribe archive
Based in Great Britain for most of her adult life, Barbara Tribe (1913–2000) is one of Australia's most significant 20th-century sculptors, recognised for her work with Rayner Hoff and for her own figurative and portrait sculptures.
The Barbara Tribe archive at the Art Gallery of NSW was assembled by the artist and is her main archival collection, thoroughly documenting her life and art from the time of her art studies until her death. The selection reproduced online includes personal photographs along with some of the awards she received.
Overview of this archive
Archive of 20 boxes containing sketchbooks, notebooks, diaries, correspondence, official records, reports and certificates, exhibition documentation, press reviews, original artworks, images of artworks, personal images, audio recordings, audio-visual recordings, objects and printed matter.
Dimensions: 340cm
Date: 1928–1998
Gift of John Schaeffer and the Barbara Tribe Foundation 2009
ARC277
About this artist
Selected items