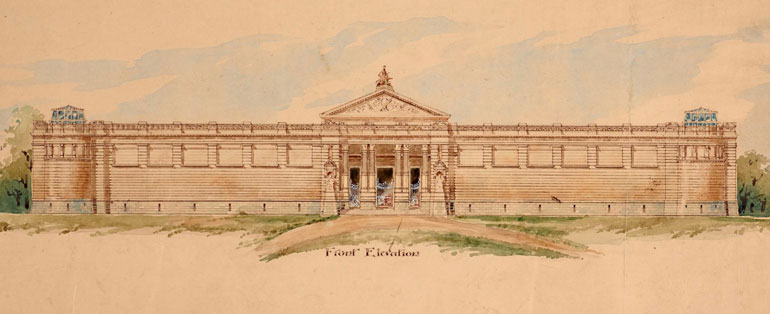 Detail of Walter Vernon's design for National Art Gallery, Sydney, proposed completed building showing front elevation, 22 July 1896, Art Gallery of New South Wales archive
Art Gallery of NSW administration archive
The Art Gallery of NSW archive holds the administrative records of the Gallery from the 1870s to the present day. These can be grouped in the following categories:
The Trust – includes minutes, reports, resolutions, etc
The Directorate – includes appointment records and director reports and papers
Correspondence – includes government, foreign, general and acquisition correspondence
Finance and administration – includes ledgers, cash books, insurance records, sale books, audit records, etc
Visitors – includes copy and visitor books
Exhibitions – includes exhibition files, installation photographs, proposals, etc
Prizes and scholarships – includes the Archibald, Wynne and Sulman Prizes, travelling scholarships, etc
Acquisition, registration and deaccession – includes accession registers, location registers, journals, worksheets, wills and bequests, outward and inward loan registers, copyright, deaccession registers, etc
Conservation – includes reports, ledgers, etc
Photographs – archival photographs of the building, collection and staff
The building – includes architectural plans and drawings, etc
For a complete listing of each category, you'll need to consult the three-volume guide in the library.
For more information about accessing the archive at the Gallery, see Visiting the archive.
Are you planning to visit?
Although general access to the library and archive is not currently possible, researchers can make an appointment to visit, specifying the resources they wish to use in advance, with at least two days' notice.
10am-4pm, Tuesday-Friday
Tel 02 9225 1785
library@ag.nsw.gov.au