World War I remembered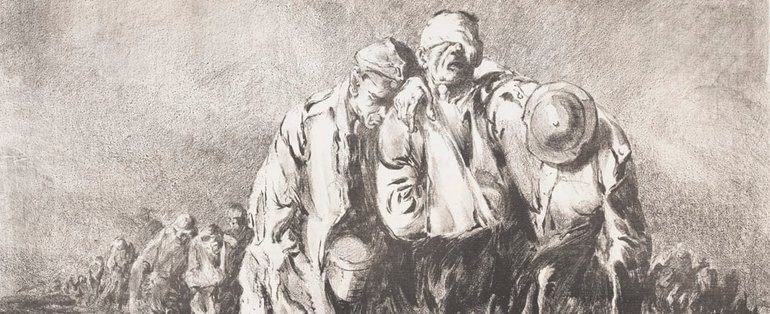 The 100th anniversary of the Anzac landing at Gallipoli is commemorated in stories of Australian artists and the First World War told through a series of exhibitions, programs and projects.
Drawing on works in the Gallery's collection, the exhibition Mad through the darkness explores how Australian artists including Arthur Streeton, Roy de Maistre, Sidney Nolan and Will Dyson responded to the war, both during the conflict and in its aftermath.
Hidden war uncovers rarely seen material from the Gallery's archive to present the words and images of the 'fighting photographer' Cecil Bostock, the 'ardent pacifist' Weaver Hawkins and the 'reluctant fascist' Dora Ohlfsen – in both an immersive online story and an exhibition in the Gallery's archive.
The Google Cultural Institute hosts two more online stories: A child's war: the First World War sketchbooks of Frank Hinder and 'A wonderful setting for the tragedy': the First World War drawings of George Lambert.
Events include the Gallipoli Gelibolu symposium in May, bringing together Turkish and Australian academics, as well as a drawing workshop and free concert performance on Sunday 26 April 2015.
Audio
Hear the stories of some Australian artists who drew, painted or photographed the First World War
Listen on iTunesU