Focus on contemporary 2012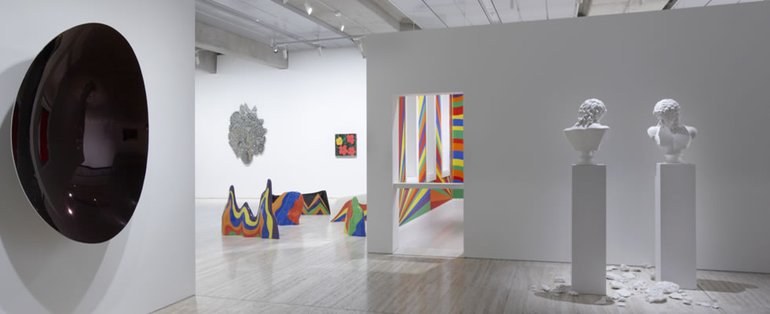 Image: (left to right): Anish Kapoor Untitled 2002 Private collection © Anish Kapoor; Jeff Koons Vase of flowers 1988 from the series Banality John Kaldor Family Collection © Jeff Koons; Sol LeWitt Non-geometric form (splotch) #5 #6 #1 #3 #4 1999 John Kaldor Family Collection © Estate of Sol LeWitt/ARS. Licensed by Viscopy, Sydney; Andy Warhol Flowers 1964 On loan from Mr Clive A Evatt © The Andy Warhol Foundation for the Visual Arts, Inc. ARS/Licensed by Viscopy; Sol LeWitt Wall Drawing #1091: arcs, circles and bands (room) Gift of the John Kaldor Family Collection 2011 © Estate of Sol LeWitt/ARS. Licensed by Viscopy, Sydney; Giulio Paolini L'altra figura 1984 Mervyn Horton Bequest Fund 1987 © Courtesy Giulio Paolini, Turin, Italy
This winter, enjoy contemporary art at the Art Gallery of NSW with a huge range of events and art, from the 18th Biennale of Sydney to our contemporary galleries and projects.
For more details – including specific dates – choose from the selection below.
Most of this program is free. Charges apply to some events and the Kamisaka Sekka exhibition.
2 Jun – 16 Sep 2012
Free admission