Corroboree Sydney 2013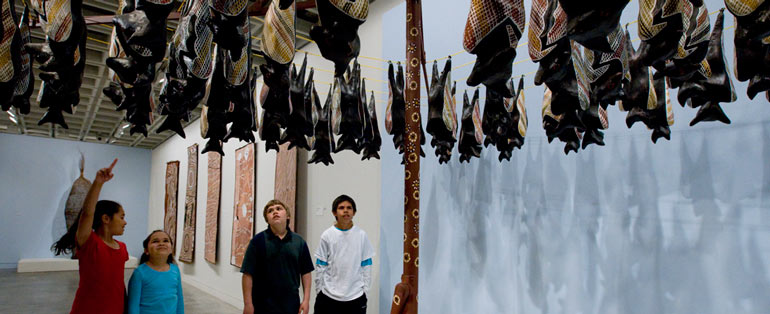 The Art Gallery of NSW celebrates the diversity of contemporary Aboriginal and Torres Strait Islander art and culture with nine days of talks, tours, workshops, live music, food and film as part of Corroboree Sydney.
Highlights of the festival at the Gallery include the presentation of Illuminate, an immersive installation created with paper, light and sound by May Hinch, Leonie Binge, Deborah Knox, Lola Binge and Christine Dumas of Euraba Artists and Papermakers. This exhibition focuses on the Goomeroi people, their distinctive artistic practice and community, and exploring issues of home and housing.
On Wednesday 20 November, the Gallery's Art After Hours program will have a special Corroboree Sydney theme. Art Gallery of NSW director Michael Brand will start the evening with an introduction to the historic tutini (Pukumani poles) from Melville Island, followed by curator Cara Pinchbeck with a sneak preview of the extraordinary crayon drawings featured in the upcoming exhibition Yirrkala drawings. Corroboree Sydney creative director Hetti Perkins will reflect on the significance of the festival in our 6.30pm celebrity talk. Writer Anita Heiss will host a glamorous Champagne and choc-lit celebration and Indigenous folk/jazz duo Microwave Jenny will perform. The Gallery will be open until 10pm.
Throughout Corroboree Sydney, the Gallery will host daily free guided tours of the Aboriginal and Torres Strait Islander art collection with Indigenous Gallery educators, plus there will be live music in the cafe at lunchtime with a chance to sample a special bushfood menu.
Festival weekends feature talks by Gallery experts and artists such as Judy Watson, Daniel Boyd and Ken Thaiday, art-making activities and a special performance for children and families by the much-loved character Ngununy the cheeky fruitbat. Film director Wayne Blair also joins us to introduce a free screening of his hit movie The Sapphires.
To coincide with Corroboree, the Gallery will launch Indigenous Australian: Art Gallery of NSW, a new app for iPad offering the chance to explore key artists and works from our Indigenous collection through detailed images, stories of the artists and the art, explanations of art terms, artist interviews, videos and audio.
16 Nov – 24 Nov 2013
Free admission
Looking for 2014 program?
---
2013 program
More information
Related