Art & About opening night 2012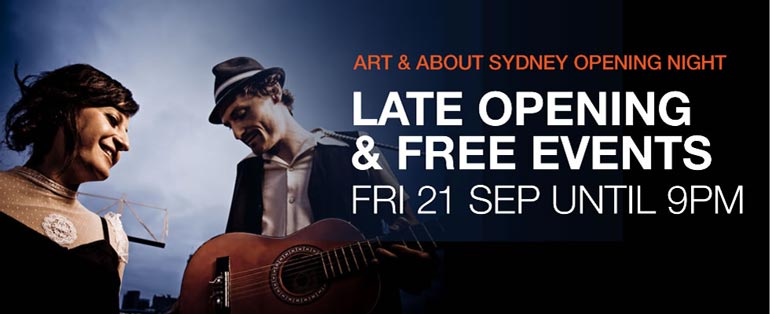 To celebrate the launch of Art & About Sydney and the exhibition Eugène Atget: Old Paris, the Gallery invites you to be inspired by documentary photographer Eugène Atget and his compelling images of early 20th-century Paris, with an evening of free events, including fine French music, talks and a film screening.
Enjoy a glass of wine in the Sepia pop-up bar and be transported to early 20th-century Paris through jazz and folk music by popular duo My Sauce Good and singer-songwriter Eddie Bronson.
Be part of the Gallery's first Instagram photography competition, judged by the Gallery's senior curator of photographs, Judy Annear, and learn some techniques with smartphone photography.
Join Michael Brown, the Gallery's senior display technician, as he discusses the trend towards the colour white in gallery spaces.
There's also a screening of the 1955 film Rififi (directed by Jules Dassin), plus guided tours and introductory lectures.
Highlights
Friday 21 September 2012
until 9pm
All events free*
Eugène Atget exhibition just $8 this night only. Buy tickets at the Gallery ticketing desk from 5pm (not available online).
* Or free with exhibition entry
Associated event
Gillian Minervini in conversation with John Kaldor
Wed 3 Oct 2012, 5.30pm