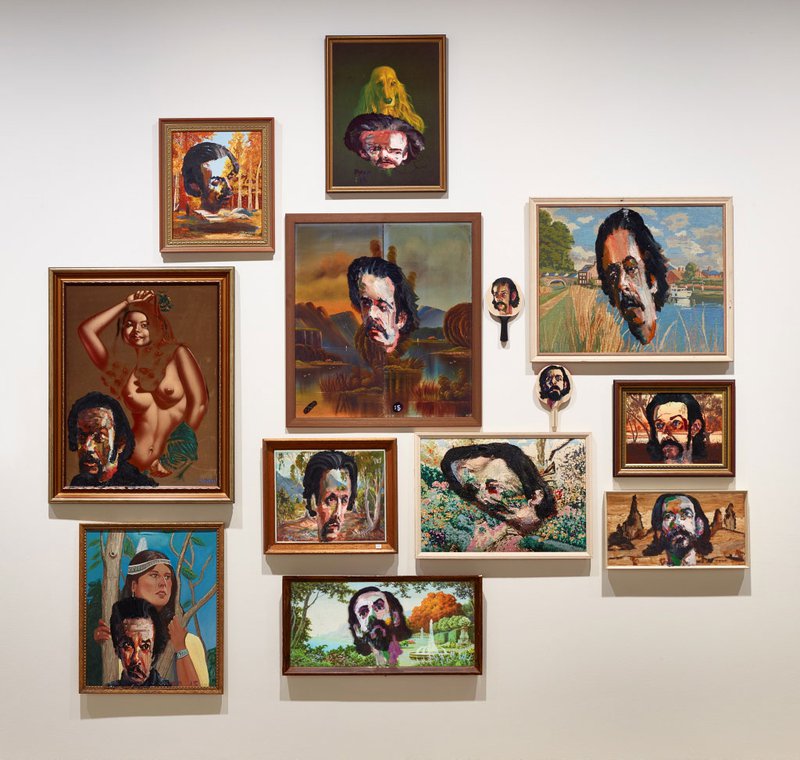 Paul Ryan
Thirteen Noahs
oil on mixed found and bought objects
237 x 282 cm
Thirteen Noahs is a collection of studies of actor and artist Noah Taylor painted over curiosities found in junk shops and some of Paul Ryan's very early works.
'I grew up watching Noah on the big and small screen. He is a similar age to me and it has been interesting to see him age and his acting skills develop, as I have also aged and developed as an artist,' says Ryan.
'With these works, I am painting Noah as a fictional character in fictional films. There is Noah the mysterious figure in Murders at the lake, Noah as a black American pimp in Hawaiian hustle, Noah in the Australian classic Death on the Murray, and Noah in Outback wanderer.
'I met him through Olsen Irwin gallery who represent us both. Our relationship was born of a mutual respect for each other's work. As I did successive studies and hung them at random on the studio wall, the idea of what to do for this year's Archibald was born. Noah's face is so interesting it practically paints itself. I painted more than the 13 studies that make up this piece, and spent a few days playing with different combinations,' says Ryan.
Born in Auckland in 1964, Ryan has had regular solo exhibitions since 1988. He has been a finalist in the Wynne and Sulman Prizes on many occasions and won the 2010 Paddington Art Prize for landscape. This is his 12th time in the Archibald Prize.