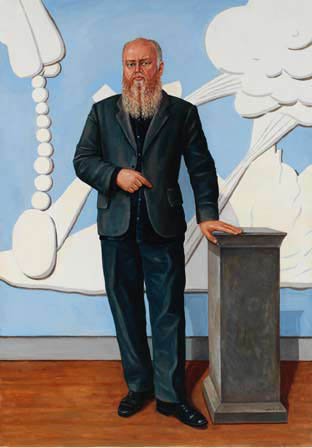 Gabrielle Martin
Tony Clark with Jasperware (landscape)
oil on linen
152.5 x 106.5cm
Gabrielle Martin met Tony Clark when she started art school in 1988. 'At this early stage of life my direction as an artist was powerfully influenced by Clark's interest in a return to classicism. In some way an interest in the language of classicism has continued to preoccupy me, although my approach has metamorphosed over time,' she says.
Clark is a maverick artist whose paintings have gained national and international recognition. He represented Australia at Documenta IX in Germany in 1992 and in 1994 won the John McCaughey Art Prize. In 1998 the Heide Museum of Modern Art in Melbourne mounted a retrospective of his work. Clark now lives in Syracuse and London. Martin met up with him again in 2002, and was able to establish a friendship with her former mentor on more equal grounds. The result of the friendship is her portrait/homage.
'In this painting I have deliberately referred to a style of 19th-century portrait commonly taken in photographic studios,' says Martin. 'Such photographs were taken of members of the Kelly gang. These associations seemed appropriate to Clark because of the radical position he has always occupied in relation to the Australian art establishment. Photographic studios often made use of painted backdrops to evoke exotic settings. The backdrop here is Clark's painting Jasperware (landscape). The pedestal he leans on evokes the tropes of the classical tradition that is so important to us both, whilst also playing with concepts of idealisation that are always present in the mentor/student relationship.'
Born in Melbourne in 1969, Martin graduated from the Victorian College of the Arts in 1993. Since then she has exhibited regularly in group and solo exhibitions, including a solo exhibition of portraits at Gallery 101 this year. She was a finalist in the Doug Moran National Portrait Prize in 1998, the Portia Geach Memorial Award in 2000, 2001 and 2003, the Salon des Refusés in 2002 and Metro 5 Art Award in 2004. A part-time art and English teacher, Martin was commissioned by the National Portrait Gallery in 2001 and is also represented in the collections of the State Library of Victoria and Deakin University.