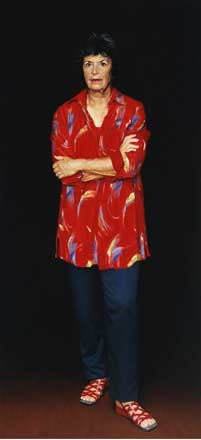 Mathew Lynn
Pat O'Shane
oil on canvas
183 x 84 cm
The magistrate Pat O'Shane grew up in the Mossman area of far north Queensland in a large family who lived 'virtually on the beach'. After completing teachers college, she taught in Queensland secondary schools for many years and became involved in Aboriginal affairs.
Forced by ill-health to move to Sydney, she fulfilled her long-time interest in law, becoming a lawyer and then a barrister and finally a magistrate. She was the first female board member on the Metropolitan Water Board, was head of the NSW Department for Aboriginal Affairs from 1981 to 1986 and has just finished a nine-year period as the chancellor of the University of New England. O'Shane has been an outspoken critic of inequality, including the treatment of Indigenous people and their harassment by police, violence against women and gender imbalances in our society.
Mathew Lynn wanted to paint as direct a picture of O'Shane as possible, trying to take himself out of the painting to allow her to be directly experienced. He was pleased that she chose to wear one of her own creations for the sittings, a fiery red shirt.
Born in Sydney in 1963, Lynn has been exhibited in the Archibald Prize on eight previous occasions. In 1997 he was a runner-up and was voted People's Choice for his portrait of Jeanne Ryckmans. He was also a runner-up in 1998 with his portrait of artist Guan Wei and has been exhibited in the Wynne and Sulman Prizes.