World art tours
Travel with friends
If you're planning on travelling overseas, a tour with the Art Gallery Society of NSW will ensure you have a memorable and meaningful experience in the company of like-minded travellers. It also means you're helping us buy art, as funds raised from tours go towards the Gallery's collection.
We have a wide range of world art tours to diverse destinations. Individual tour itineraries have been carefully designed to include the most fascinating and important art historical, archaeological and architectural sites.
The Society's tour leaders are chosen for their adventurous spirit, their knowledge, experience, ability to communicate and to manage groups. In many countries local guides are essential, and the Society has a very good network of international guides who share their intimate knowledge of complex cultural, political and religious sensitivities.
---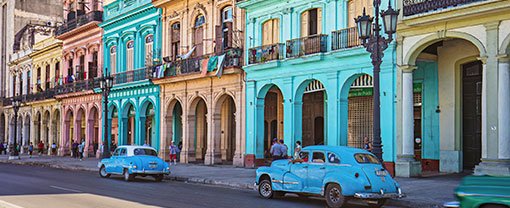 27 November – 7 December 2019
Art revival: from Cuba to Miami
Havana and Art Basel Miami Beach
With Claudia Chan Shaw
From $11,850 pp plus airfares
Experience the dynamic energy of contemporary art in two cities at the juncture of North and South America: Havana and Miami. Long famous for its passionate musical traditions, Cuba's capital Havana now entices art lovers to discover its tradition of visual arts, from pre-revolutionary modernism to contemporary. Meanwhile, across the water, Florida's Miami now hosts the internationally-renowned Art Basel Miami Beach, an exciting art fair where over 250 galleries display the latest developments in regional and international contemporary art. In Havana see a heady mix of architectural styles – colonial, baroque, neoclassical, art deco, modernist and post-modernist – a reflection of Cuba's position as a gateway between the old and new worlds. In Miami Beach, discover some of the best-preserved art deco architecture in the world.
More information and itinerary on Renaissance Tours website
---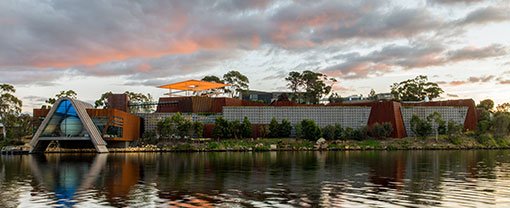 14–17 November 2019
New art spaces of Tasmania
Weekend of art, wine and culture
With Gitte Weise
From $3,450 pp plus airfares
Spend a long weekend in the company of art curator Gitte Weise exploring some of the Island State's newest art spaces, museums, private galleries and wineries. Visit the 'cheeky and provocative' Michael Bugelli housemuseum, featuring innovative contemporary works. Enjoy special access to the Museum of Old and New Art (Mona), visiting the gallery's new wing, PHAROS, featuring major installations by James Turrell, Charles Ross, Richard Wilson and Nam Jun Paik, and explore the gallery's special exhibitions. Gain exclusive access to the vast private contemporary art collection housed over four floors of the former headquarters of The Mercury newspaper and admire James Turrell's stunning Amarna sequence over a gourmet meal.
More information and itinerary on Renaissance Tours website
---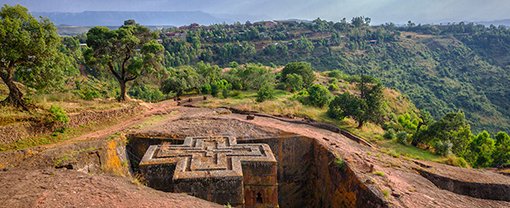 12–26 November 2019
Ethiopia: The heart of African civilisation
Addis Ababa and the historical north
With Jane Hutcheon
From $10,950 pp plus airfares
In the birthplace of humanity, explore the monolith rock churches of Lalibela, the monasteries of Axum and the proud imperial castles of Gondar, built by the heirs of King Solomon. From the 3.2 million-year-old skeleton of Lucy to the Queen of Sheba and the mighty Emperors of the Solomonic Dynasty who held out against European colonisation, Ethiopia has been the heart of African civilisation since time immemorial. One of the very first kingdoms to adopt Christianity as its state religion in the 4th century AD, Ethiopia evolved a distinct religious and cultural tradition which gave rise to stunning works of architecture such as the Lalibela rock churches, hewn from solid rock, the 24-metre-tall Great Stela of Axum, and the 17th century Castle of Gondar, the 'Camelot of Africa'. Along the way, see the verdant Simien mountains, and discover a confident, welcoming and sophisticated nation leading Africa into its 21st century prominence.
More information and itinerary on Renaissance Tours website
---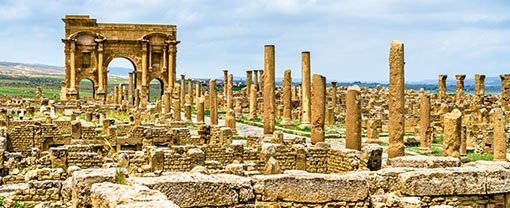 4–20 November 2019
Into the Sahara: Algeria
From ancient Rome to the modern Maghreb
With Julian Droogan
From $14,950 pp plus airfares
Venture to one of the few remaining frontiers of art and archaeology, and discover a culture weaving together nomadic Berbers, Ancient Romans, Mediaeval Vandals and Umayyads, French colonists and modern Algerians. Begin in Algiers, visiting the extraordinary collection of the National Museum of Antiquities and Islamic Arts, the lively Kasbah and the colonial Cathedral of Our Lady of Africa. Continue to Setif and see the stunning 3rd century CE mosaic the 'Triumph of Dionysus', and in Timgad explore the Arch of Trajan and the Byzantine fortress. Marvel at the Roman aqueduct in Constantine, now a bridge over the deep Rhummel Gorge, and discover distinctive Berber culture in Ghardaïa. Then enter the Sahara, visiting the red mudbrick towns of Taghit and Timimoun, where markets have grown up around precious sources of water surrounded by the endless desert dunes.
More information and itinerary on Renaissance Tours website
---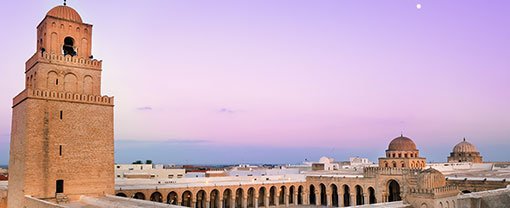 21 October – 3 November 2019
Land of Berbers, Carthaginians and Romans: Tunisia
Tunisia, North Africa
With Iain Shearer
From $8,950 pp plus airfares
Venture into the heart of Tunisia to explore ancient Roman and Carthaginian sites, Berber villages and the distinctive Islamic architecture of its key cities. Starting in Tunis, discover both the ancient and modern history of this vibrant city, which has been continually inhabited since the 4th Century BC. Visit key archaeological sites such as Carthage, and explore the Roman sites of Bulla Regia, and El Djem, which boasts the largest amphitheatre in North Africa. Travel to the coastal village of Sidi Bou Said with its striking blue and white architecture and its quaint streets. Immerse yourself in the lively hubbub of the Islamic city of Kairouan and visit the troglodyte villages of Tataouine and Chenini, the living history of Tunisia.
Note: This tour is designed to connect with Into the Sahara: Algeria with Julian Droogan, 4–20 November 2019.
More information and itinerary on Renaissance Tours website
---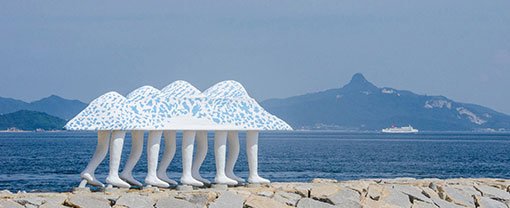 13–24 October 2019
Setouchi Triennale 2019
The art islands of the Seto Inland Sea
With John McBride
From $15,950 pp plus airfares (FULLY BOOKED – WAITLIST ONLY)
Join Japanophile John McBride AM for a comprehensive visit to all 12 islands and one port of the 2019 Setouchi Triennale, celebrating the creativity of Japanese and international artists. Many are aware of the three impressive 'art islands' of Naoshima, Teshima and Megijima in the Seto Inland Sea of Japan, but these permanent art installations of global fame are supported by a triennale art event which extends over 12 islands. For the 2019 triennale John will lead travellers on a comprehensive tour of the full dozen islands and one port, engaging with the Japanese and international art collected for the event. Experience the laidback lifestyles of the islanders of the Inland Sea, the 'Aegean of Asia', and discover how the traditional culture of Japan still survives in their small villages, supported by this important international art event.
More information and itinerary on Renaissance Tours website
---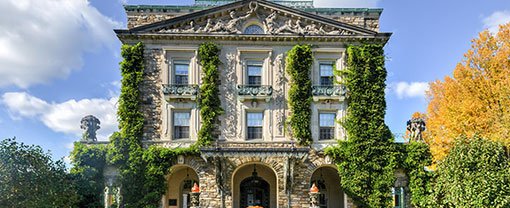 18–28 October 2019
Museums, mansions and masterpieces: Hudson Valley to Boston
New York to Boston
With Ron Ramsey and Sebastian Smee
From $11,950 pp plus airfares
Gain a new insight into American art, history and architecture with a focus on the collections and mansions of the Hudson Valley, and the rich art collections of Boston and Massachusetts. In New York State, join Ron Ramsey, Executive Director of the Art Gallery Society, to discover dynamic art galleries and collections, including the spectacular landscape paintings of the 19th century 'Hudson River School' which make for a fascinating comparison with Australian landscapes of the same period. Travel to the Hudson Valley and visit Kykuit, the Rockefeller Mansion which has been home to four generations of the Rockefeller family. Wander through the Dia:Beacon contemporary art museum and Magazzino, warehouse for Italian Art. Visit the FD Roosevelt Presidential Library and Museum at Hyde Park as well as Olana, the residence of the eminent Hudson River School painter, Frederic Edwin Church.
In Boston, guest lecturer and renowned art critic Sebastian Smee will share his insights on the city's outstanding collections, such as the Museum of Fine Arts. Explore the local contemporary art scene at Mass MOCA, and enjoy a cluster of modern and contemporary art districts including Newbury Street and South End 'SoWa'.
More information and itinerary on Renaissance Tours website
---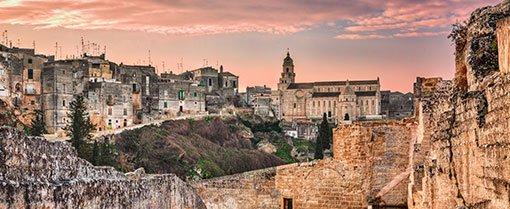 13–25 October 2019
Puglia and southern Italy
Bari to Naples
With Steven Miller
From $9,950 pp plus airfares
In southern Italy a treasure trove of Roman, mediaeval and baroque architecture awaits, replete with spectacular castles, ornate churches and expansive art museums. Join Steven Miller, Head of the Art Gallery of NSW's National Art Archive, for an exploration of this fascinating region. Begin in Bari, which combines Byzantine and Napoleonic history with a modern artistic fervour. Continue to the beautiful baroque city of Lecce, and then visit Martina Franca, graced with mannerist, baroque and rococo churches. Discover the ancient sassi (caves) of Matera, and the trulli (cone-topped houses) of Alberobello. Travel westward to the coast of the Tyrrhenian Sea and conclude in Naples, one of Italy's great cultural centres, with visits to world-class churches, art galleries and museums displaying the treasures of two millennia of Neapolitan culture.
More information and itinerary on Renaissance Tours website
---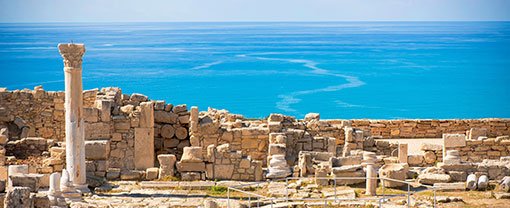 30 September – 12 October 2019
Cyprus: Crossroads of culture
Ancient cities, crusader castles and Byzantine churches
With Christopher Allen
From $9,750 pp plus airfares
Join art historian Christopher Allen to dig deep into the history of Cyprus, the 'island of Aphrodite', through which the wealth of Mediterranean cultures has coursed for more than 8,000 years. Discover both sides of this fascinating island, with a thorough exploration of southern 'Greek' Cyprus and the northern third with its distinctive Turkish influence. See the wondrous church of St Lazarus in Limassol and the diverse range of art and artefacts in the Cyprus Museum and Nicosia Folk Art Museum. Wander through the extraordinary ancient site of Paphos, the capital of Hellenistic and Roman Cyprus, and immerse yourself in the underwater archaeology of the Kyrenia Shipwreck Museum. Cross the Green Line into Northern Cyprus for a walking tour of the Turkish sector of Nicosia, and then travel further north to visit Bellapais Abbey and the Royal Tombs at Salamis.
More information and itinerary on Renaissance Tours website
---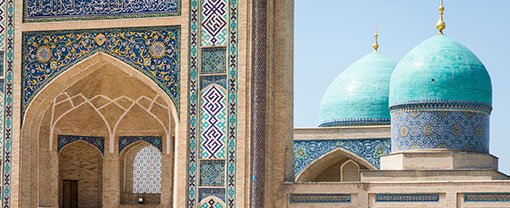 12–29 September 2019
Journey along the Silk Road: Uzbekistan (FULLY BOOKED – WAIT LIST ONLY)
Tashkent, Nukus, Khiva, Bukhara and Samarkand
With Joyce Morgan
From $11,250 pp including airfares
Discover the 'Jewel of Central Asia', a land of ancient oasis citadels with their distinctive turquoise-tiled minarets, mosques and madrassahs and a rich tradition of arts and crafts. Uzbekistan was the crossroads of the Silk Road, the ancient trade route that connected China with the Mediterranean. For over two millennia it has absorbed diverse influences, among them Greek, Persian, Turkic, Russian and Chinese cultures, as well as Buddhism, Zoroastrianism, Nestorian Christianity and Islam.
In the capital Tashkent, discover the modern energy of Uzbekistan. Explore the archaeological legacy of the conquering general Timur (Tamerlane) in the romantic cities of Khiva, Bukhara and Samarkand which are still crowned with dazzling tiled mosques. Visit Nukus and Timur's birthplace, Shakhrisabz, meeting village artisans along the way. Discover a long tradition of arts and crafts, including the intricately embroidered suzani (tribal textiles), exquisite silk ikat weavings, hand-woven silk carpets, miniature paintings, tribal jewellery and distinctive ceramic ware.
More information and itinerary on Renaissance Tours website
---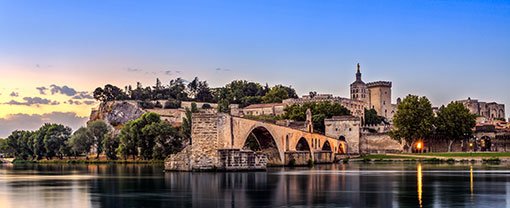 11–21 September 2019
Art, music and wine in the south of France
Including five nights on the Rhône River from Arles to Lyon
With Wendy Sharpe, Bernard Ollis, Christopher Lawrence and Peter Bourne
From $10,950 pp plus airfares
Journey through the charming South of France, and cruise up the mighty Rhône River from Arles through Avignon and Tournon to the gastronomic capital of Lyon. Begin in Aix-en-Provence, and experience this refined cultural centre following in the footsteps of its acclaimed native son, Paul Cézanne. Continue to Arles, where Vincent van Gogh lived during the final years of his life, producing some of his most captivating masterpieces. Then cruise up the Rhône aboard the luxurious MS Amadeus Provence, visiting the once-papal city of Avignon, and enjoying fine wines of the Rhône Valley. In Lyon, enjoy world-class music and art in one of the great centres of French culture.
Along the way, benefit from the insight of four expert tour leaders: award-winning artists Wendy Sharpe and Bernard Ollis, music broadcaster Christopher Lawrence and wine writer Peter Bourne.
More information and itinerary on Renaissance Tours website
---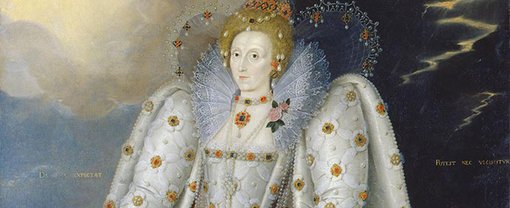 11–14 July 2019
Monarchs, emperors and warriors
Galleries and exhibitions of Bendigo and Melbourne
With Brian Ladd
From approx. $2,350 pp plus airfares
Venture to the heart of country Victoria to Bendigo, where the superb Bendigo Art Gallery hosts a seminal exhibition of British Royal portraits from London's National Portrait Gallery, and enjoy a private, curator-led lecture on the exhibition.
Then visit the outstanding Heide Museum of Modern Art, boasting one of the most significant collections of Australian modern and contemporary art.
Finally, enjoy a private guided tour of the National Gallery of Victoria's 2019 Melbourne Winter Masterpieces exhibition, presenting China's mighty Terracotta Warriors, alongside new works by contemporary Chinese artist Cai Guo-Qiang.
More information and itinerary on Renaissance Tours website
---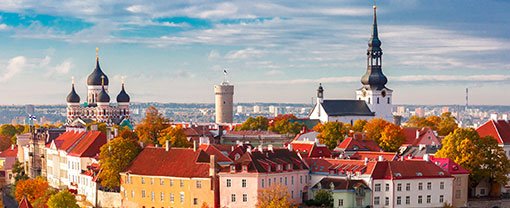 21 June – 7 July 2019
Poland and the Baltics
Warsaw, Kraków, Riga, Tallinn and Helsinki
With Rosamund Bartlett
From $12,450 pp plus airfares
Wend your way through the great centres of art and architecture in Poland, and onwards to explore the storied capitals of Latvia, Estonia and Finland. Discover the cultural riches of Warsaw in its historic palaces and museums, and its tradition of fine Classical music. In Kraków, visit the cathedral where Polish kings and queens were crowned and see Da Vinci's delicate masterpiece Lady with an Ermine.
Continue to Riga in Latvia, where a surprising gem of Art Nouveau architecture awaits, and onwards to Tallinn, capital of Estonia, one of the most complete and impressive Mediaeval city centres in the world. Then cross the gulf to Finland for visits to the world-class museums and galleries of Helsinki and the lakeside home of composer Jean Sibelius.
More information and itinerary on Renaissance Tours website
---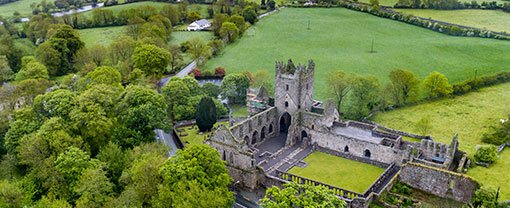 21 June – 6 July 2019
Treasures of the Emerald Isle
Castles, manor houses and museums of Ireland
With Kenneth Park
From $10,950 pp plus airfares
Explore the romantic manors, castles, landscapes and art of Ireland, from dynamic Dublin to picturesque Kilkenny and Cork, up thorough Gaelic Sligo and on to Belfast. Begin in Dublin, the heart of Irish culture and the home of its great collections of art, including the 9th century Book of Kells and the National Gallery of Ireland's fine collection of European and Irish art. Visit historic Dublin Castle and Belvedere House before travelling south to Kilkenny, for visits to Jerpoint Abbey and the famous crystal factory at Waterford. Turn west towards Cork, kissing the Blarney Stone and spending a day in Cobh, last port of the ill-fated RMS Titanic. Travel through the spectacular landscape of the Ring of Kerry, and stay in magnificent Adare Manor, before continuing through Galway to Sligo, home of WB Yeats. End in Belfast, a city of emerging 21st century confidence.
More information and itinerary on Renaissance Tours website
---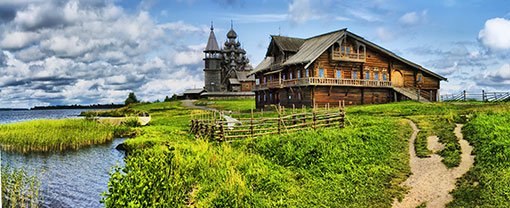 11–26 June 2019
St Petersburg to Moscow on the Volga Dream
Russian art, music and literature
With Alan Dodge, Christopher Lawrence and Irina Dunn
From $15,250 pp plus airfares
Embark on an epic journey through Russian history and culture as you trace the mighty waterways of Russia, from imperial St Petersburg to the awe-inspiring capital city of Moscow. Begin in St Petersburg, where Emperor Peter the Great and his Romanov successors transformed a wild marshland into one of Europe's great cities of art, music and architecture. Then, cruise aboard the luxurious MS Volga Dream through the broad fields and landscapes which stirred the soul of Tolstoy and other literary masters. In Moscow, reach the apex of ancient and modern Russian culture as you explore a city of colourful churches, solemn bells and exquisite art and music.
Benefit throughout the tour from the insight of three subject expert tour leaders: art curator Alan Dodge AM, classical music broadcaster Christopher Lawrence and Russian literary expert Irina Dunn.
More information and itinerary on Renaissance Tours website
---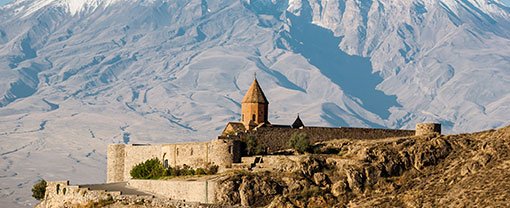 24 May – 11 June 2019
A road less travelled
Armenia, Georgia and Azerbaijan
With Liz Gibson
From $10,500 pp plus airfares (FULLY BOOKED – WAIT LIST ONLY)
Discover where Europe and Asia meet, and explore the spectacular landscapes of three distinct nations – Armenia, Georgia and Azerbaijan.
Set between the Black and Caspian Seas, and surrounded by the old empires of Russia, Persia and Turkey, the peoples of the Caucasus have developed proud, independent traditions of their own, with a rich and complex mix of religion, language and art that has fired the imagination of travellers for centuries. Discover the ancient Byzantine monasteries and churches of Armenia, wander through the golden treasures in the galleries and museums of Georgia, and explore the old palaces, mosques, and markets in Azerbaijan. Enjoy the fascinating blend of ancient tradition and contemporary cosmopolitan life in today's three capital cities of Yerevan, Tbilisi and Baku.
More information and itinerary on Renaissance Tours website
---
11–26 May 2019
Cathar castles and Catalan cathedrals
Toulouse, Narbonne, Perpignan, Girona, Barcelona and Mallorca
With Brian Ladd
From $11,500 pp plus airfares
Discover the fascinating ancient Catalan and Cathar cultures in the picturesque regions straddling the eastern Pyrenees Mountains of France and Spain. Travel through landscapes of rugged beauty to explore outstanding examples of Romanesque and Gothic architecture, exemplified in magnificent cathedrals, abbeys, monasteries and fortifications. These extraordinary architectural achievements reflect the great religious fervour and growing wealth of many regional communities during the Medieval era.
Explore Toulouse, before driving through France's Cathar country visiting imposing castles, including Carcassonne and the charming cities of Albi and Narbonne. Then, enjoy the traditional Catalan cities of Perpignan, Girona and Barcelona and conclude in idyllic Mallorca, the largest of Spain's Balearic Islands.
More information and itinerary on Renaissance Tours website
---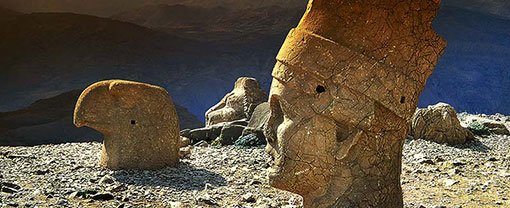 9–29 May 2019
The land beyond the sunrise
Ancient cities, temples and landscapes of Eastern Turkey
With Iain Shearer
From $12,250 pp plus airfares
Join archaeologist Iain Shearer to explore a land of ancient temples, impressive castles, exquisite churches and lively bazaars, at the confluence of Turkish, Persian, Armenian, Georgian and Kurdish cultures.
The region of Eastern Anatolia, known to the Ancient Greeks as the 'land beyond the sunrise', has seen the rise and fall of civilisations over thousands of years, each leaving their mark on a complex and diverse culture. In Gaziantep, see wondrous mosaics testifying to the city's place in the Roman world, and the colossal statues which mark the funerary sanctuary of the Kings of Commagene on Mt Nemrut.
Explore the tranquil Syriac Orthodox monastery of Deyr al-Zafaran and the Armenian Orthodox Cathedral of the Holy Cross on an island in Lake Van. Along the way, enjoy the natural delights of Anatolia in its springtime bloom.
More information and itinerary on Renaissance Tours website
---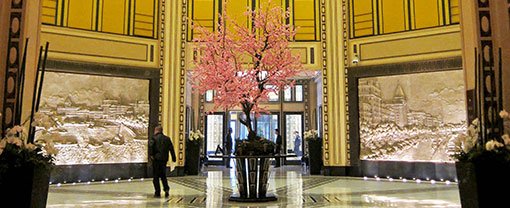 19–27 April 2019
Art deco to art now
Shanghai and Hong Kong
With Claudia Chan Shaw
From $8,950 pp plus airfares
Join Claudia Chan Shaw for a fresh look at China's early 20th century architectural heritage, alongside its 21st century contemporary art, design and changing culture.
Begin in Shanghai, where art deco and grand European-influenced architecture and design present a tangible history of the 1920s and 1930s. Along the Bund, and between the buildings of the French Concession, trace the origins of art deco and discover the cutting-edge art and architecture of a China in transition. Then travel to Hong Kong, a city with a rich and diverse history, heritage and culture, and explore its galleries, museums and emerging fashions.
Experience the shifting culture of two of China's most dynamic cities, with very different histories, that today share a new exuberant Chinese urban culture showcasing the latest international trends tinged with a 'Sino' character.
More information and itinerary on Renaissance Tours website
---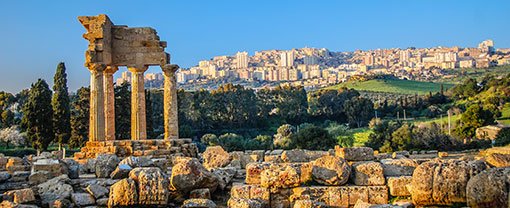 13–27 April 2019
From Homer to Caravaggio
Sicily and Malta
With Christopher Allen
From $10,950 pp plus airfares
Explore the alluring Mediterranean islands of Sicily and Malta through a wealth of art and archaeology, tracing their history from the Neolithic to the Baroque.
Begin in Sicily, largest island of the Mediterranean and Homer's 'Land of the Cyclopes'. Visit the imposing remains of Classical Greek and Roman theatres in Taormina and Syracuse and the evocative Valley of the Temples in Agrigento. See lesser-known masterpieces of Classical Greek art like the marble Motya Charioteer in Marsala and the bronze Dancing Satyr at Mazara del Vallo. Explore the Norman history of Sicily in the churches of Palermo and Monreale.
Continue to the tiny island of Malta, whose Neolithic temples still stand as some of the oldest religious structures on earth, and discover its extraordinary Mediaeval and Renaissance history which saw Caravaggio serve as court painter to the Knights Hospitaller.
Click the link for information
Latest tours
Short breaks
More information
To find out more about any of the tours or to register to receive one of the upcoming itineraries once they are available, contact
Renaissance Tours
Tel 1300 727 095
info@renaissancetours.com.au
Related talks
22 June, 10.30am
Uncover the history, extraordinary landscape, wildlife and stories of Ethiopia with Jane Hutcheon. Find out more