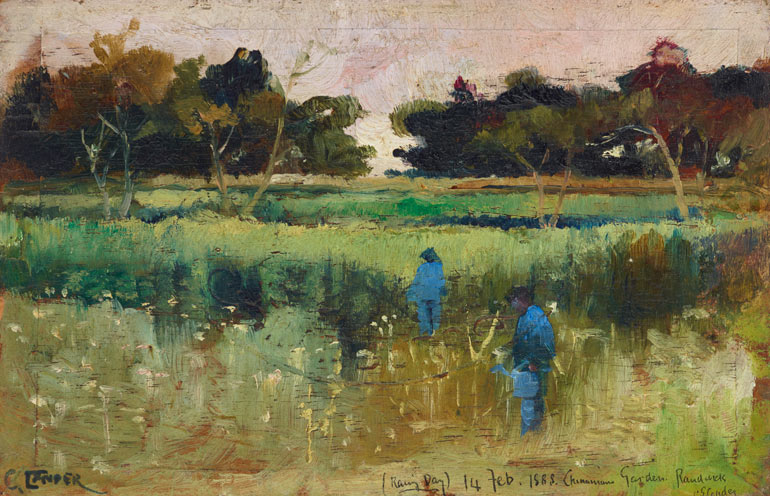 Charles Conder Rainy day 1888
Help acquire 'Rainy day'
Your contribution will make all the difference.
The Art Gallery Society of NSW has a special opportunity we want to share with you.
The Art Gallery of NSW has been presented with the exciting opportunity to acquire Charles Conder's 1888 painting Rainy day.
One of the few 1880s experimental panels by Conder to remain in private hands, Rainy day would cement the Gallery's collection as one of the most significant and diverse of the artist's early practice.
Working in Sydney in the late 1880s, Conder established a reputation as a young artist of note, producing works that poetically envisaged the city's landscapes. Rainy day was painted on a wet Saint Valentine's day in 1888, when the lush colours of the Chinese market gardens of what was then Randwick, caught the artist's attention. He beautifully conveyed both the colours and mood of the scene on the back of a cedar cigar box, creating one of the most distinct works of his Sydney oeuvre.
A sumptuous colour composition, Rainy day is also important for its subject matter. Depicting Chinese immigrant workers at one with the landscape, the work is void of the sense of exoticism or blatant racism with which such subjects were commonly depicted during this period.
Rainy day superbly demonstrates Conder's distinctly lyrical vision of Sydney's landscapes. It would be an exceptional addition to the collection and would remain on permanent display in the 19th-century galleries.
The Society has a 60-year tradition of acquiring works of art for the Gallery, to date purchasing more than 230 works for the collection.
In keeping with this tradition, we invite you to donate to the current Collection Circle appeal for the purchase of Charles Conder's Rainy day. You can help by joining the Collection Circle or making a tax-deductible donation.
How you can donate