Membership types and prices
1yr

3yr




General membership

All general member benefits, including free exclusive member viewings of exhibitions
Individual
$95
$270
Joint (2 adults, same address)
$140
$380
Household (2 adults, 2 children under 18, same address)
$160
$435



Premier

Receive all member benefits, free express entry to all exhibitions, plus one annual guided tour with up to four guests
Individual premier
$250
$675
Joint premier
$320
$865



Under 30s

All general member benefits at a special Under 30s price plus tailored programs and social opportunities (You'll need to provide your date of birth and email address)
Individual
$75





Student

(Full time-students only)

All general member benefits at a special student price plus $30 event discount vouchers (You'll need to provide a copy of your student ID)
Individual
$50





Concession

For pension cardholders (including disability support, aged), Centrelink cardholders and Veterans Affairs cardholders – not for senior cardholders. All member general member benefits at a special concession price (You'll need to provide your customer reference number or

CRN

)
Individual
$75


Joint (2 adults, same address)
$110





Country

(80km+ away from the Gallery)

Exclusive member viewings or one free entry per exhibition
Individual
$90
$245
Joint (2 adults, same address)
$110
$300
Household (2 adults, 2 children under 18, same address)
$140
$390



Overseas

Even if you live overseas, you can still enjoy the benefits of membership, including our monthly Look magazine mailed to your door.
Individual
$155
$440
Joint (2 adults, same address)
$175
$495
Household (2 adults, 2 children under 18, same address)
$205
$585
Note: Includes GST. Fees are non-refundable; three year savings quoted are approximate as yearly rates may change. Rates include postage and handling for Look magazine.
Ways to save
Sign up for three years and save over 10% with membership rates frozen at today's prices.
Make membership renewal easy by selecting automatic membership renewal when you join and make a one-off saving of $10. (Not available for Under 30s, Student or Concession memberships.)
See also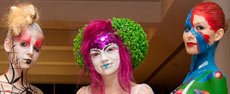 Are you aged 18-40?
Do you who want to connect with like-minded art lovers, flex your creative muscles and keep a finger on the pulse of Sydney's art scene?
Find out about Young Members