Members lounge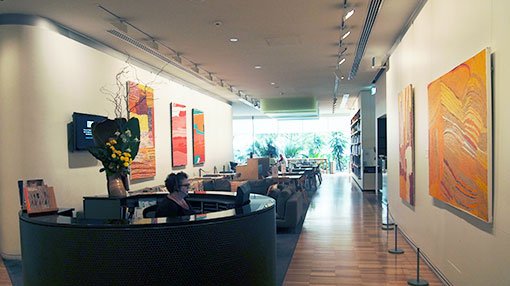 The members lounge is an exclusive space, accessible only to members, on lower level 3 at the Gallery.
It's a perfect place to take a break and relax during your visit. Enjoy a range of savoury and sweet dishes, choose from a selection of wines, and help yourself to free self-serve tea and coffee.
The lounge is a WiFi hotspot and has a well-stocked library with magazines, newspapers and art books. It also houses the offices for the members organisation, the Art Gallery Society of NSW.
Open 10am until 5pm daily, until 9pm on Wednesdays for Art After Hours. (Self-serve tea and coffee ends 30 minutes before closing.)
The reception desk in the members lounge is getting a make over. Work starts the week of 21 August and will be completed in early September. The lounge will remain open during this period. We apologise for any inconvenience you may experience while these much-needed improvements are made.